Follow @acidjacknyc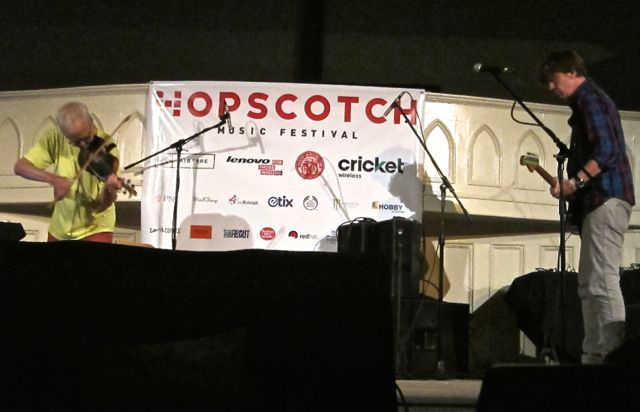 [photo by acidjack]
The appearance of Tony Conrad at this year's Hopscotch Music Festival was one of those once-in-a-lifetime opportunities that makes a festival unique. Conrad is a living legend in a number of out fields, having made his name as a filmmaker, artist, musician, composer, teacher and writer. As a member of the pre-Velvet Underground band Theatre of Eternal Music, Conrad was one of the earliest progenitors of improvisational noise and drone music, making him an influence on a huge number of acts who had the benefit of newer technologies than the gadgets that Conrad built from scratch.
At the Vintage 21 stage at Hopscotch, Conrad began seated with a cardboard box in front of him, onto which he drew a rough circle that he cut out with an Xacto knife. A violin bow, when inserted through that space, created a drone effect that became the centerpiece of Conrad's first composition. Offering this as a live recording doesn't really do it justice; to watch Conrad create his art was as much an experiential pleasure as an aural one, if not more so. Conrad then moved to a violin, face painted black, with extra strings hanging off of it, and in drawing the bow across it, created new cascades of noise.
While improviser-in-residence was normally the influenced rather than influencer among the many acts he joined over the weekend, that was not the case when Moore and Conrad got together. The two created a dynamic noise piece that set yet another bar for the weekend. Conrad, almost giddy at his reception by the crowd, seemed almost as pleased to introduce Moore as Moore was to join the master. This was an experience that wouldn't be repeated, in the weekend, or possibly ever.
I recorded this set with a soundboard feed and Schoeps MK41 microphones. The sound quality is excellent. At the artist's request, this set is streaming only. Enjoy!
Stream the full set:

Tony Conrad
2014-09-05
Hopscotch Music Festival
Vintage 21
Raleigh, NC USA
Exclusive download hosted at nyctaper.com
recorded and produced by acidjack
Soundboard + Schoeps MK41 (at SBD, DINa)>KCY>Z-PFA>>Edirol R-44 [OCM]>2x24bit/48kHz WAV>Adobe Audition CS 5.5 (align, levels, mix down, compression)>Izotope Ozone 5 (EQ, effects, imaging)>Audacity 2.0.3 (track, amplify, balance, fades, dither and downsample)>FLAC ( level 8 )
Tracks
01 Improvisation 1
02 [banter]
03 Improvisation 2 [w/ Thurston Moore]
If you enjoyed this recording, PLEASE SUPPORT Tony Conrad, learn more about him on Wikipedia, and buy his music on Discogs and iTunes.