Follow @acidjacknyc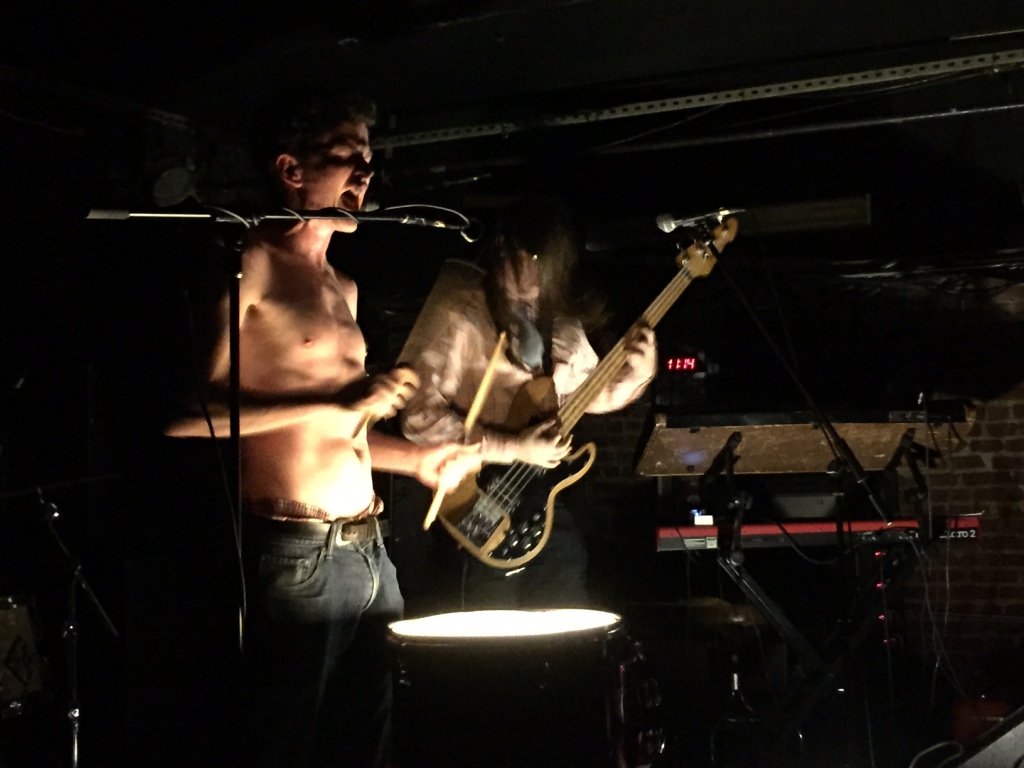 [photos by acidjack]
Ed Schrader's Music Beat have the distinction of being, hands down, one of the weirdest bands I've ever seen. If the duo of Ed Schrader and Devlin Rice's instrumentation — Rice's bass and Schrader's single floor tom, played standing up — or their quirky and hilarious banter weren't enough, then there'd be the songs themselves to consider. They play short, loud blasts of scrawling sonic assault, intermingled with some traditional singing by Schrader that included, on this night at Mercury Lounge, a semi-sincere Elton John cover. The pair played in complete blackness, with Schrader going shirtless fairly soon into the set. He talked about his time in Utica, pre-Baltimore relocation, and sang a few songs about it, too. Schrader's music, if you listen to his crowd banter, might be deeply personal, or it might make no sense at all. Or it might be both — he does after all sing about how he can't stop eating sugar, a problem to which we can all relate. This set didn't even last an hour, yet comprises 19 tracks, including the aforementioned Elton cover and another of Frank Sinatra.
As some things I record tend to be (see, e.g., Tony Conrad at Hopscotch), this is probably the kind of thing you have to see live for it to fully make sense. These are songs that belong in context, in a dark room late on a Friday night, where you're primed not only to laugh, but to be exposed to something original and maybe a little bit unsettling. Schrader isn't trying to helm a traditional rock band, and if that's what you're here for, eject while you can. If not, take a trip into Schrader's delightfully demented little world, and prepare to be tickled.
I recorded this set with a soundboard feed from house engineer Dave Lefcourt and a soundboard feed. The sound quality is outstanding. Enjoy!
Download the complete show: [MP3] | [FLAC]
Stream the full set

Ed Schrader's Music Beat
2014-09-26
Mercury Lounge
New York, NY USA
Exclusive download hosted at nyctaper.com
Recorded and produced by acidjack
Soundboard (engineer: Dave Lefcourt) + Schoeps MK41 (ROC, PAS)>KCY>Z-PFA>>Roland R-26>2x24bit/48kHz WAV>Adobe Audition CS 5.5 (align, mix down)>Izotope Ozone 5 (effects, EQ)>Audacity 2.0.3 (fades, tracking, amplify, balance, downsample, dither)>FLAC ( level 8 )
Tracks
01 When I'm In A Car
02 [banter1]
03 Pilot
04 [banter2]
05 Signs
06 Laughing
07 Sermon
08 I Guess That's Why They Call It the Blues [Elton John]
09 Weekend Train
10 No Fascination
11 Right
12 Televan
13 Fly Me to The Moon [Frank Sinatra]
14 Clock Weather
15 Desire Post
16 [banter3]
17 Airshow
18 Party Jail
19 Traveling
20 I Can't Stop Eating Sugar
21 Rats
If you enjoyed this recording, PLEASE SUPPORT Ed Schrader's Music Beat by visiting their bandcamp site and buying their records there.