Follow @acidjacknyc


[photos by acidjack]
It only took one listen to Ought's debut album, More Than Any Other Day to understand that they are a young band of uncommon musical ambition and scope. They play a brand of rhythmically complex art-punk that incorporates elements of the "math rock" sound that rose to prominence in the 1990s, while still maintaining a great ability to make melodies you might hum. Formed in Montreal during a period of civil unrest by a group of young men mostly from somewhere else, their songs brim with disaffection as well as hope, a sort of post-OWS sensation that no matter how difficult things may seem, a way forward still exists. The album title, then, says a lot about where they are philosophically.
As a live band, Ought more than do their recorded output justice. They took the stage at Bowery Ballroom in a relatively quiet pre-CMJ week and stormed through most of their album plus a new song. The whole band has significant musical chops; drummer Tim Keen deserves a lot of the credit for keeping things tight, just as Tim Keeler's sneering vocals give a memorable voice to the band's vision. Listening to the eight songs live, some of which got the extended treatment (especially "Forgiveness") it was striking how single-worthy almost every one of these tracks was, as well as how distinct each song was from the other. Pitchfork's very positive review rightly pointed out that Ought's more immediate style made them an odd bedfellow with the roster they share with Godspeed You Black Emperor and Colin Stetson, but I think Constellation Records knows what they're up to. If the label's goal is to cull the very best of the band's adopted city, putting ambition at the forefront of any particular genre, then Ought fit right in. These guys are going places. And if you want to watch them do it, catch some of their upcoming tour dates, including Washington, DC tonight and Purchase, NY tomorrow.
I recorded this set in our usual manner for the venue, with Schoeps MK5 cardiod microphones and a soundboard feed from Bowery legend Kenny. The sound quality is outstanding. Enjoy!
Direct download of full set: [MP3] | [FLAC]

Stream the full set:

Note: All of the material on this site is offered with artist permission, free to fans, at our expense. The only thing we ask is that you download the material directly from this site, rather than re-posting the direct links or the files on other sites without our permission. Please respect our request, and feel free to repost the Soundcloud links.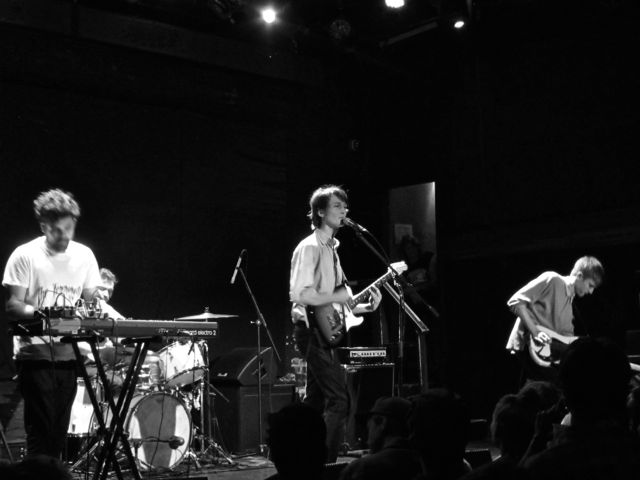 Ought
2014-10-14
Bowery Ballroom
New York, NY USA
Exclusive download hosted at nyctaper.com
Recorded and produced by acidjack
Schoeps MK5 (at SBD, PAS)>KCY>Z-PFA>Sound Devices USBPre2 + Soundboard (engineer: Kenny (house) and Ought engineer (name?)>2x24bit/48kHz WAV>Adobe Audition CS 5.5 (align, mix down, compression)>Izotope Ozone 5 (effects, EQ)>Audacity 2.0.5 (fades, tracking, amplify, balance, downsample, dither)>FLAC ( level 8 )
Tracks
01 Today More Than Any Other Day
02 The Weather Song
03 Clarity!
04 Habit
05 Pleasant Heart
06 Forgiveness
07 [banter1]
08 Gemini
09 Beautiful Blue Sky
If you enjoyed this recording, PLEASE SUPPORT Ought, like them on Facebook, and buy their releases from Constellation Records.