Follow @acidjacknyc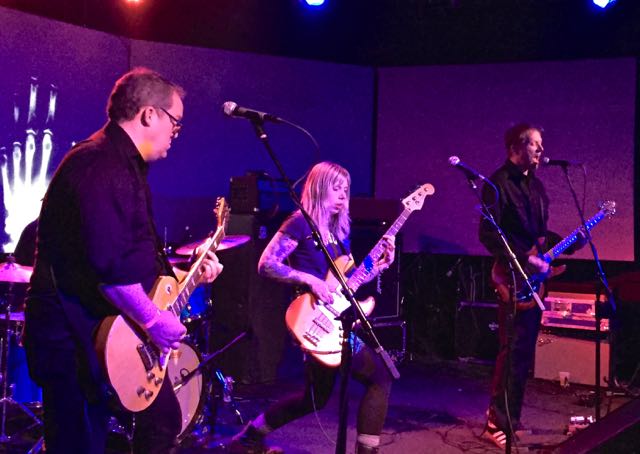 [photos by acidjack]
Survival Knife have a storied pedigree, having emerged in part from the remnants of the legendary '90s post-hardcore band Unwound. Members Justin Trosper and Brandt Sandeno both hail from that band, and while Trosper's voice and playing on Survival Knife's first full-length, Loose Power, are hard to miss, Survival Knife feels very much like a distinct project. With Survival Knife, you can find the expected driving guitars and angsty post-punk vocals combined with a willingness to let things get proggy, such as on the extended "Heaven Has No Eyes" that closed the set.
We caught the band on the tail end of a whip through the East Coast, playing a free gig as part of the Brooklyn Night Bazaar. I was excited to check the Bazaar out, having noticed its excellent booking for a while. I'm pleased to report that although the shows hosted here are very much part of a broader holiday food/shopping bazaar, the concert experience still feels very much like a concert experience, with the show going on in its own corner of the room with plenty of seating and floor space for a crowd. Despite the cold night the Knife brought out a good-size crowd, and delivered a set focusing mostly on their only full-length, but adding in some new stuff — "Thud of the Jackboot" and "Tropic of Chaos" — from their Survivalized tour-only EP. For those of us that mourned the passing of Unwound, seeing this next project swing into action is all the sweeter. Check them out the next time they're around.
I recorded this set from inside the soundboard cage at the Brooklyn Night Bazaar, with Schoeps MK41 microphones and a soundboard feed that included the engineer, Kenny's, mics at either side of the stage. While the venue design (not, after all, actually a concert hall) presents some challenges, the sound is overall quite good. Enjoy!
Download the complete show: [MP3] | [FLAC]
Stream the full set

Survival Knife
2014-11-22
Brooklyn Night Bazaar
Brooklyn, NY USA
Exclusive download hosted at nyctaper.com
Recorded and produced by acidjack
Soundboard w/ onstage mics (engineer: Kenny) + Schoeps MK41 (LOC, PAS)>KCY>Z-PFA>Sound Devices USBPre2>>Edirol R-44 [OCM]>2x24bit/48kHz WAV>Adobe Audition CS 5.5 (align, mix down, limiter)>Izotope Ozone 5 (EQ, exciter, imaging)>Audacity 2.0.5 (fades, tracking, amplify, balance, downsample, dither)>FLAC ( level 8 )
Tracks
01 Tropic of Chaos
02 Thud of the Jackboot
03 Gold Widow
04 Snakebit
05 Loose Power
06 [tuning]
07 Cut the Quick
08 Crystalline
09 [tuning2]
10 Heaven Has No Eyes
If you enjoyed this recording, PLEASE SUPPORT Survival Knife, like them on Facebook, and buy Loose Power from Fat Possum Records.