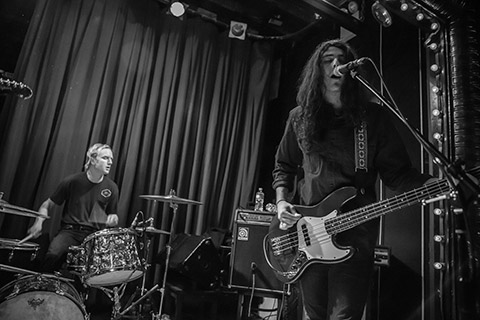 [photos courtesy of P Squared Photography]
Honey are a relatively new band who showed up hungry as the openers for Viet Cong at Union Pool recently. Composed of Cory Feierman on bass/vocals, Dan Wise on guitar/vocals and Will Schmiechen on drums, these guys showed up ready to play, putting even the very talented headliners on notice that mediocrity would not be accepted. The band members' skill reflects some their resumes; one or more of them have been part of Amen Dunes, Psychic Ills and Stupid Party. Likewise, early invites to play with the likes of J Mascis, King Tuff, Endless Boogie, Crystal Stilts and Destruction Unit tell us that other bands are taking notice.
The band plays hard-charging rock n' roll with a punk edge, reminiscent of an early, less self-serious Soundgarden.  After choosing the bold leadoff of a cover of Can's "Connection", the highlights of this set for me were "Monk", a pounding number that made a fine lead-in to "Motherfucker Longhair". Wise got his best showcase on "Enough", where he was left plenty of room to solo despite the abbreviated set time. Honey expects to have a new LP release in the next couple of months, which should only continue to raise their profile in 2015.
I recorded the set with Schoeps MK4V cardiod microphones and a soundboard feed from house engineer Doug. The sound quality is excellent. Enjoy!
Download the complete set: [MP3] | [FLAC]
Stream the complete set:

Honey
2015-01-28
Union Pool
Brooklyn, NY USA
Exclusive download hosted at nyctaper.com
Recorded and produced by acidjack
Schoeps MK4V (FOB, DFC, PAS)>KCY>Z-PFA>Sound Devices USBPre2 + Soundboard (engineer: Doug)>>Edirol R-44 [OCM]>2x24bit/48kHz WAV>Adobe Audition CS 5.5 (align, mix down, compression, fades)>Izotope Ozone 5 (EQ, tape effect, imaging)>Audacity 2.0.3 (tracking, amplify, balance, downsample, dither)>FLAC ( level 8 )
01 Connection [Can]
02 Monk
03 Motherfucker Longhair
04 Enough
05 Comes Down
06 Drive
If you enjoyed this recording, PLEASE SUPPORT Honey, like them on facebook, and visit their bandcamp page to buy their album.