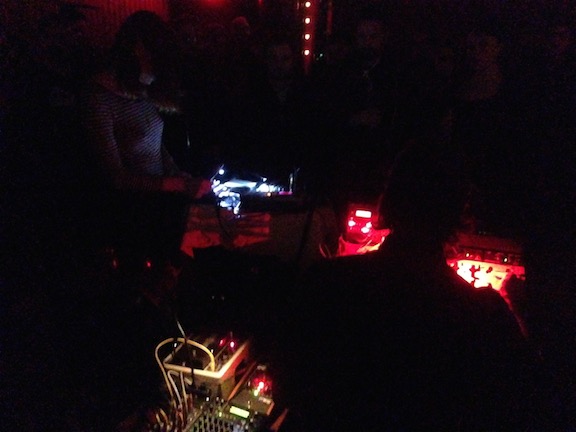 Since 2007, Mind Over Mirrors has been the solo outlet for Jaime Fennelly's explorations with an Indian pedal harmonium processed through analog electronics and synthesizers. With the recent cassette release of The Voice Calling on Immune Recordings, Fennelly is joined by vocalist Haley Fohr, better known as Circuit des Yeux. At Union Pool, the duo played in near darkness, set up on the floor rather than on the stage, with Fennelly and Fohr facing inwards towards an impressive array of electronics. The crowd gathered around close as the room became a tight fit with the bulk of gear arranged mid-floor. The dark stillness punctured only by the swirling rhythms of Fennelly's harmonium and Fohr's ritualistic vocal paroxysms, the subtle glow of electronics and the occasional clinking of glasses at the bar. The three songs, all off of The Voice Calling, are played as a single piece, one subtly transmuting into the next. Performed live, each song eclipses its recorded counterpart's length as if expanding to fill its new, larger container and seeking out new spaces to inhabit. The setting necessitates a hyper-acuteness to the experience and at the set's conclusion there is a collective release of held breath as the tension between harmonium and voice resolves. It's unclear if the collaboration between Fennelly and Fohr is intended to be long-term or whether it's a one-off experiment; but either way, the results both live and on the album are compelling.
I recorded this set with the AKGs clamped to the balcony combined with a board feed from Union Pool FOH Leah. The sound is excellent. Enjoy!
Mind Over Mirrors just completed a tour with Daniel Bachman and their next scheduled performance is at the Levitation Festival in Chicago, March 13–14.
Download the complete show: [MP3] | [FLAC]
Note: All of the material on this site is offered with artist permission, free to fans, at our expense. The only thing we ask is that you download the material directly from this site, rather than re-posting the direct links or the files on other sites without our permission. Please respect our request.
Mind Over Mirrors
2015-02-05
Union Pool
Brooklyn, NY
Exclusive download hosted at nyctaper.com
Recorded and produced by Eric PH
Soundboard (engineer: Leah) + AKG C480B/CK61 (FOB, PAS) > Roland R-26 > 2xWAV(24/48) > Adobe Audition CC (align, mixdown) > Izotope Ozone 5 (EQ) > Audacity 2.0.5 (amplify, fades, downsample, dither, tracking, tagging) > FLAC (16/44.1, level 8)
Tracks [36:19]
01. Motioning
02. Whose Turn Is Next
03. Calling Your Name
If you enjoyed this recording, PLEASE SUPPORT Mind Over Mirros. Visit their website, their Bandcamp page, and buy The Voice Calling from Immune Recordings.