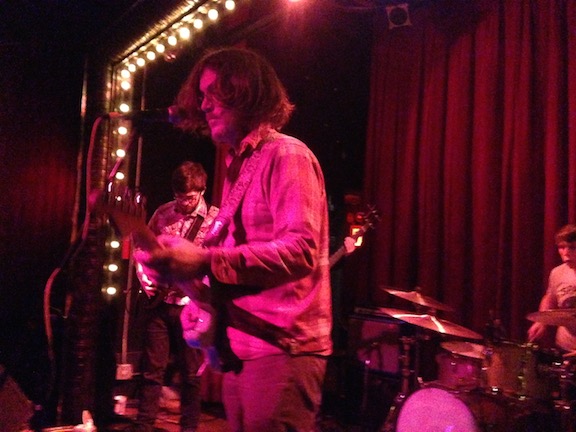 It's hard to believe that Chris Forsyth's second outing with the Solar Motel Band, Intensity Ghost, is merely four months old. So even as the album's songs hardly feel worn-in, it's exciting that the band has already begun airing new material live. "High Castle Rock" is one such new song, but also one we've heard before. The band has been playing it live since even prior to the release of Intensity Ghost and the long gestation period has proven fruitful. Charting its progress over the last few months, each performance burns a bit hotter than the last. This version of the song from last month at Union Pool is an unforgiving, relentless jam. Playing for a packed crowd convinced to brave the cold by a New Yorker writeup, the band airs a second new song, "The Rarity of Experience, Parts 1–2." That one, along with their standout cover of Richard and Linda Thompson's "The Calvary Cross," illustrates Forsyth's increasing comfort with vocals. From Intensity Ghost the band plays the title track, the album's standout jammer "The Ballad of Freer Hollow," and closer "I Ain't Waiting."
I recorded this set in the same manner as the Horse Lords and Mind Over Mirrors sets from the same night: with the AKGs clamped to the balcony combined with a board feed from Union Pool FOH Leah. The sound is excellent. Enjoy!
Downloads available at the Live Music Archive

Chris Forsyth & The Solar Motel Band
2015-02-05
Union Pool
Brooklyn, NY
Exclusive download hosted at nyctaper.com
Recorded and produced by Eric PH
Soundboard (engineer: Leah) + AKG C480B/CK61 (FOB, PAS) > Roland R-26 > 2xWAV (24/48) > Adobe Audition CC (align, EQ, mixdown) > Audacity 2.0.5 (amplify, fades, downsample, dither, tracking, tagging) > FLAC (16/44.1, level 8)
Tracks [56:55]
01. The Ballad of Freer Hollow
02. [banter/tuning]
03. The Rarity of Experience, Parts 1–2
04. High Castle Rock
05. [banter/tuning]
06. The Calvary Cross [Richard & Linda Thompson]
07. [banter]
08. Intensity Ghost
09. [banter]
10. I Ain't Waiting
If you enjoyed this recording, PLEASE SUPPORT Chris Forsyth. Visit his website, like him on Facebook, and buy Intensity Ghost from No Quarter.