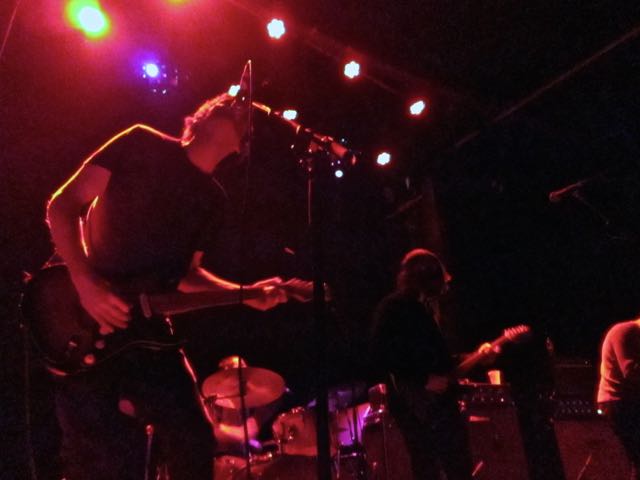 [photos by Jill Harrison]
Suuns seem to have almost grown into the current moment, what with their reliance on atmospheric electronics to put a new spin on Joy Division-y guitar rock. We first saw the band in 2011, at south Brooklyn's tiny-but-sweet Rock Shop, where they proved themselves ready for more. On this night at Rough Trade, coming off their second proper album, Images du Futur, Suuns gave an assured, dialed-in performance. The bill co-featured Chicagoans Disappears, and the pair made a perfect match, with Suuns' own slow evolution on display right after their contemporaries'. The band's live approach is an even slower burn than their albums, built together from segue elements that don't appear on the records, allowing sounds to linger for extra minutes. There wasn't an encore break on this night, so much as a break in the action while the last notes held on, waiting for the band's return. Coming from one of the world's most acclaimed music cities (Montreal), perhaps it's not surprising that Suuns put so much effort into their live show. Though Images du Futur is still what they're touring, the band has already moved beyond it, playing four new songs, three of which I believe are tentatively titled "Delay", "Resistance" and "Pray" (the fourth is anyone's guess). If those new songs are any guide, Suuns intend to keep doing what they're doing, only getting better at it over time. It's no shock that the crowd got most into Images' strongest track, "2020", but there were plenty of other good moments, including the closer on "Edie's Dream", a hypnotic, almost-pretty song amidst the dark tones in the band's catalog.
Suuns are off the road for now, but be sure to catch them next time they're through. It'll be worth it.
I recorded this set with Schoeps MK4V microphones and a soundboard feed from Suuns' touring engineer, whose name would be appreciated if you know it. The sound quality is the equal of the Disappears recording, meaning it is flawless. Enjoy!
Direct download of the complete show: [FLAC] | [MP3]
Stream the complete show: 

Suuns
2015-02-28
Rough Trade NYC
Brooklyn, NY USA
Exclusive download hosted at nyctaper.com
Recorded and produced by acidjack
Soundboard [Engineer: Suuns FOH (please share name if you have it)] + Schoeps MK4V (inside SBD cage, PAS)>KCY>Z-PFA>Aerco MP-2>> Edirol R-44 [OCM]>2x24bit/48kHz WAV>Adobe Audition CS 5.5 (align, mix down, limiter, fades)>Izotope Ozone 5 (EQ, exciter)>Audacity 2.0.5 (track, amplify, balance, downsample, dither>FLAC ( level 8 )
Tracks [Total Time 1:09:14]
01 Images du Futur
02 Music Won't Save You
03 Powers of Ten
04 Delay [new]
05 Sunspot
06 2020
07 Resistance [new]
08 Pray [new]
09 [unknown1] [new]
10 Pie IX
11 Arena
12 [encore break]
13 Edie's Dream
Note: New song titles may be subject to change.
If you enjoyed this recording, PLEASE SUPPORT Suuns, visit their Facebook page, and buy Images du Futur directly from Secretly Canadian.