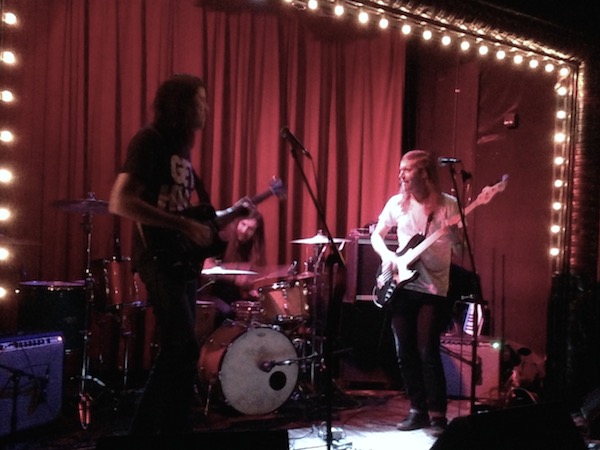 Dommengang is the latest addition to Thrill Jockey's roster of some of the finest hard psych bands out there, including Eternal Tapestry, Pontiak, White Hills, Rhyton, and Arbouretum—just to name a few. Celebrating the release of their new record, Everybody's Boogie, Dommengang stopped by Union Pool this past weekend for a one-off gig to air tracks off that record. Despite frontman Sig Wilson's insistence that the band hasn't played together in a year, it doesn't show as the band immediately syncs into a lockstep groove that doesn't waver during their thirty-plus-minute set. Underpinning Wilson's guitar riffage are bassist Brian Markham and drummer Adam Bulgasem. The three are clearly comfortable playing together and after seeing their live set I get the impression that Everybody's Boogie is one of those albums born of extensive jamming that's then honed into an album. Favorites here include the chugging "CC," "Her Blues" (for which the band made a video), and the twangy "Hats Off to Magic." So far no more live dates have been announced but east and west coast dates are promised in support of Everybody's Boogie.
I recorded this set with the AKGs clamped to the balcony. Though I got a board feed from Union Pool FOH Kevin, I set the levels a little high and ended up with some distortion so this recording only uses the room mics. However, Kevin's expertise behind the board and Union Pool's excellent sound system make for a terrific recording that captures all of Dommegang's heaviness. I'm sure you'll enjoy it!
Download the complete show: [MP3] | [FLAC]
Stream the complete show:

Note: All of the material on this site is offered with artist permission, free to fans, at our expense. The only thing we ask is that you download the material directly from this site, rather than re-posting the direct links or the files on other sites without our permission. Please respect our request.
Dommengang
2015-06-06
Union Pool
Brooklyn, NY
Exclusive download hosted at nyctaper.com
Recorded and produced by Eric PH
AKG C480B/CK63 (FOB, LOC, PAS) > Roland R-26 > 2xWAV (24/48) > Adobe Audition CC (balance) > Izotope Ozone 5 (EQ) > Audacity 2.0.5 (amplify, fades, downsample, dither, tracking, tagging) > FLAC (16/44.1, level 8)
Tracks [33:04]
01. Extra Slim Boogie
02. [banter]
03. Burning Off the Years
04. CC
05. Wild in the Street Blues
06. Her Blues
07. Hats Off to Magic
08. Everybody's Boogie
Support Dommengang: Bandcamp | Facebook | Buy Everbody's Boogie from Thrill Jockey