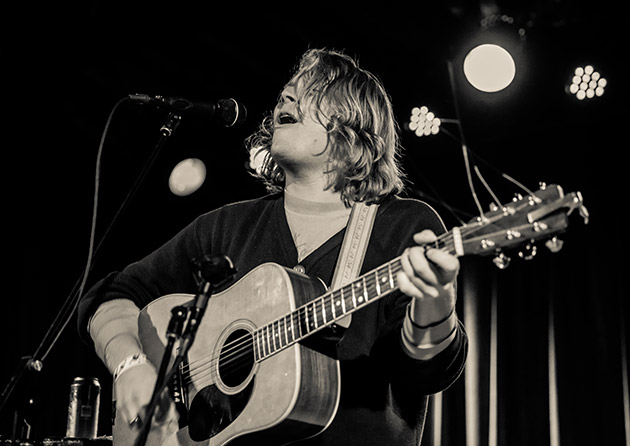 [photos from the Bell House show by P Squared Photography]
Two things you can't say about Ty Segall: That he doesn't work hard enough, and that his songs don't stand up without all the fuzz attached. While a lot of garage rock acts would fall apart without the 110dB of drums and electric guitars around them, what this series of acoustic shows by Segall around the New York area a few weeks ago proved was exactly how good his songs are on their own. If it wasn't quite as revelatory as Nirvana Unplugged, these shows had much more in terms of set size and variety.
This show at Rough Trade was the second of Ty's two performances of the night, following stints at Baby's All Right (coming soon), Bell House, and Mercury Lounge earlier the same night (download here). By the time the set began around midnight, Ty was loose and ready to have a good time, making this set, possibly even more than the others, an extravaganza of both new material and covers both common (two Beatles tunes and Neil Diamond) and obscure (the Groundhogs and the Urinals). Joined again by Cory Hanson of Wand (who we recorded earlier this year), Ty took us on a winding tour through his material, both from Ty Segall Band and Fuzz, and it was hard to pick a favorite among them. A few repeats of the Mercury set are here, but most of this is new, including one song we don't have the title for, tentatively called "She Is A Beam." In the acoustic set, Segall occupies a comfortable place between cafe troubadour and the impish garage-rock persona for which he's better known. That is,  he'll deliver a moving "Bob Dylan Blues" to kick things off — but as soon as the applause goes up, he's kidding around about dropping his pick in his guitar. Ty's music is serious, but he doesn't take himself too seriously. That humility is not only part of why his popularity continues to explode, but it makes him the kind of guy who's willing to take chances, such as these four shows. We're here to tell you that the experiment succeeded.
I recorded this set with a soundboard feed from Kameron Biehl of Rough Trade and Schoeps MK41V supercardiod microphones. The sound quality is outstanding. Enjoy!
Download the complete show: [MP3] | [FLAC]
Stream the complete show:

Ty Segall
2015-06-26
Rough Trade NYC
Brooklyn, NY
Exclusive download hosted at nyctaper.com
Recorded and produced by acidjack
Soundboard (engineer: Kameron Biehl) + Schoeps MK41V (PAS)>KCY>Z-PFA>>Roland R-26>24bit/44.1kHz WAV>Adobe Audition CS 5.5 (mix down, studio reverb, fades, compression)>Izotope Ozone 5 (EQ, effects)>Audacity 2.0.5 (track, amplify, balance, dither)>FLAC ( level 8 )
Tracks
01 [intro]
02 Bob Dylan Blues [Syd Barrett]
03 Lucy Leave [Syd Barrett]
04 Crazy
05 [banter1]
06 Sleeper
07 Breakfast Eggs [new]
08 Finger
09 [banter2]
10 Don't You Want to Know (Sue)?*
11 Yer Blues [The Beatles]>Why Don't We Do It In the Road [The Beatles]*
12 "She Is A Beam" [new song by Ty and Cory]*
13 The Feels*
14 Emotional Mugger [new]*
15 [banter3]
16 Orange Colored Lady [new]*
17 [banter4]
18 Wave Goodbye
19 California Hills [new]
20 Fine
21 I'm A Bug [Urinals]
22 [encore break]
23 Rich Man, Poor Man [Groundhogs]
24 You Make the Sun Fry
25 Cherry, Cherry [Neil Diamond]
* w/ Cory Hanson
If you enjoyed this recording, PLEASE SUPPORT Ty Segall, visit his website, and purchase his official releases from the Drag City Records website [HERE].