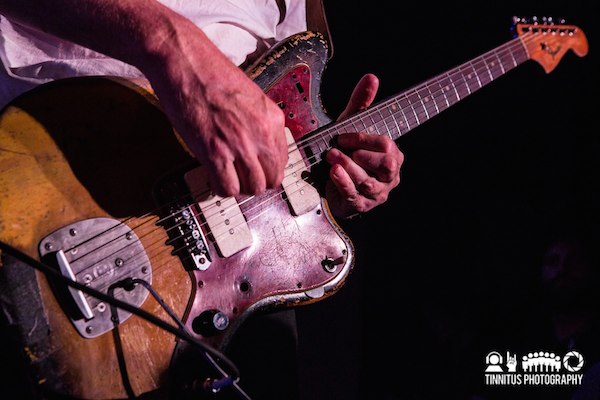 [Photo from Portsmouth by Tim Bugbee/tinnitus photography]
Since the dissolution of Sonic Youth in 2011, Thurston Moore has kept pretty busy, between solo records, various one-offs, and noise records. Last year's The Best Day finds Moore flirting with stretched out jams similar to Sonic Youth's 2002 return to form, Murray Street. We caught up with Moore touring the new album last year at Saint Vitus, and while this set similarly covers most of The Best Day material, the band adds three new songs—"Turn On," "Cease Fire," and "Aphrodite"—scheduled to appear on the next album, which Moore says is titled Rock and Roll Consciousness and due out next year. By far the highlight of the entire hour-and-a-half show is "Turn On," a ten-minute slow build that achieves liftoff in the back half. If this is what we can expect from the Thurston Moore Band's second record together, I think we're in for something that will surpass even the highest expectations.
I recorded this set from our usual location in the venue with a board feed from Thurston's FOH. The sound quality is excellent. Enjoy!
Thurston Moore band will return to the area on September 17, at Monty Hall in Jersey City. I mean, if there was ever a reason to go to Jersey, this is it. Tickets on sale.
And if you're in search of more live Thurston Moore, the upcoming Parallelogram box set from Three Lobed Recordings features Thurston Moore and John Maloney playing live as Caught on Tape— and it's recorded by our very own Acidjack. Preorder here.
Download the complete show: [MP3] | [FLAC]
Stream the complete show:

Thurston Moore Band
2015-08-06
The Bowery Ballroom
New York, NY
Exclusive download hosted at nyctaper.com
Recorded and produced by Eric PH
Soundboard + AKG C480B/CK63 (FOB, PAS) > Roland R-26 > 2xWAV (24/48) > Adobe Audition CC (align, compression, mixdown, normalize, fades) > Izotope Ozone 5 (EQ) > Audacity 2.0.5 (downsample, dither, tracking, tagging) > FLAC (16/44.1, level 8)
Tracks [01:27:20]
01. [Intro]
02. Forevermore
03. Speak to the Wild
04. [banter]
05. Germs Burn
06. Turn On
07. Detonation
08. [banter]
09. The Best Day
10. [banter]
11. Grace Lake
12. [encore break]
13. Cease Fire
14. [encore break]
15. Aphrodite
Support Thurston Moore: Website | Buy The Best Day from Matador