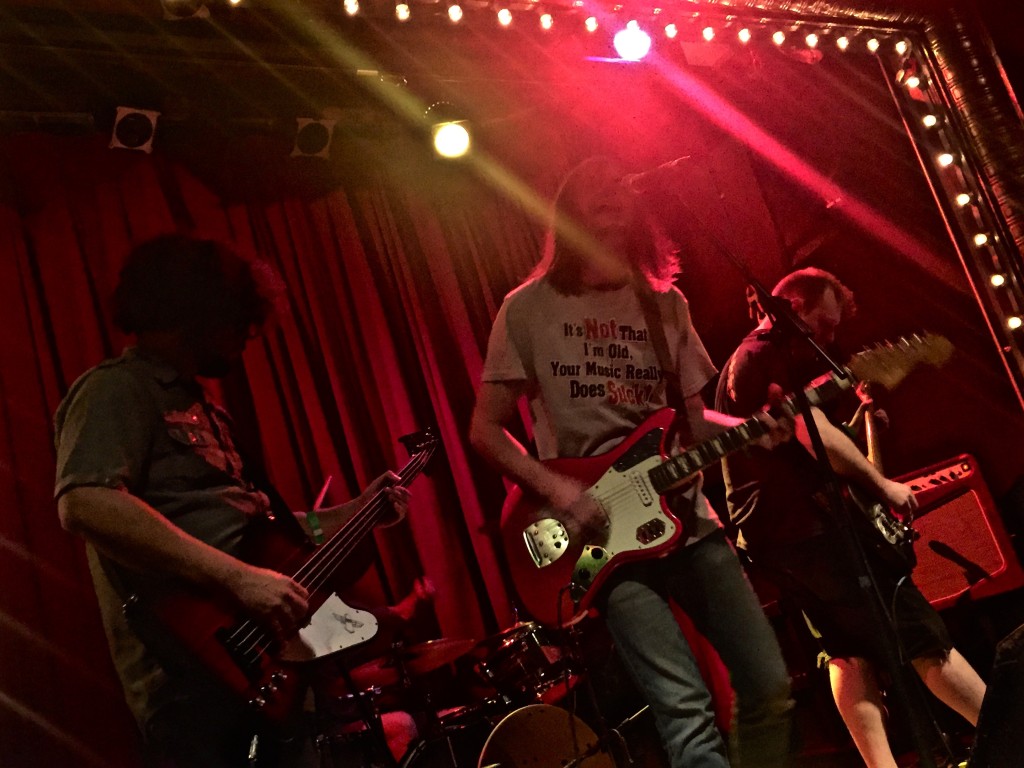 The Brooklyn band Law$uits (not to be confused with nyctaper alumni and Philadelphia indie faves The Lawsuits) stormed Union Pool on top of a noisy four-act bill, and gave us a high-octane dose of exactly what we'd been waiting for. Theirs is a to-the-gut, dissonant style of punk rock that recalls the foundational acts of the 80s and 90s like the Jesus Lizard and Big Black. If the music seethes, propelled by prominent bass in the mix to drive the groove under lead guitarist James Browning's skillful work, it also sneers with an intelligence that this kind of music isn't always accused of. If you want to just stand there and bang your head, fine, but if you pay more attention, you might notice these are smart tunes, too, the kind that don't need to cover up bad playing with schtick or shock. The band has one record out, 2014's Future Failure, and judging by this setlist, there's more on the way, as several of these tunes aren't on that album. We'll be looking forward to hearing more from them, hopefully soon.
I recorded this set with Schoeps MK41V supercardiod microphones and a soundboard feed from Union Pool engineer Chris Madden. The sound quality is excellent. Enjoy!
Download the complete set: [MP3/FLAC]
Stream the complete set:

Law$uits
2015-09-01
Union Pool
Brooklyn, NY USA
Exclusive download hosted at nyctaper.com
Recorded and produced by acidjack
Schoeps MK41V (PAS)>KCY>Z-PFA + Soundboard (engineer: Chris Madden) + >>Roland R-26>24bit/44.1kHz WAV>Adobe Audition CS 5.5 (fades, compression)>Izotope Ozone 5 (EQ, effects)>Audacity 2.0.4 (tracking, amplify, balance, downsample, dither)>FLAC ( level 8 )
Tracks
01 Uniform
02 Needle Nose
03 Playing Dumb
04 Living Situation
05 Supermarket Sweep
06 Old Men
07 Iconoclast
If you enjoyed this recording, PLEASE SUPPORT Law$uits and check out their bandcamp page.