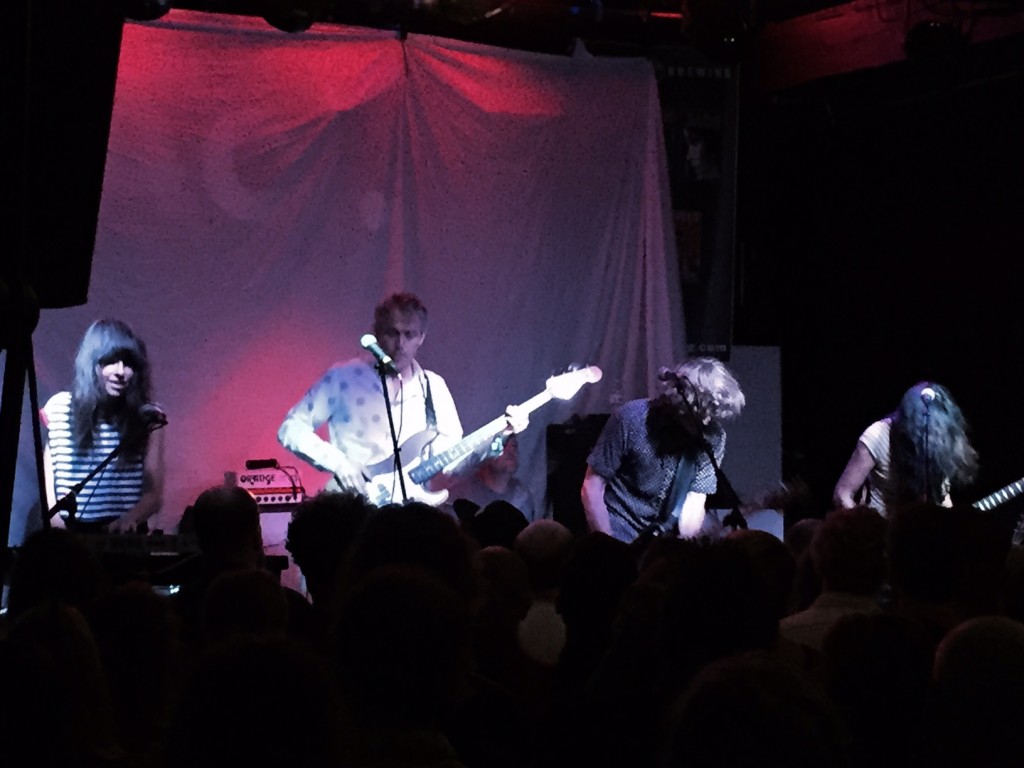 Birds of Avalon are the best kind of local heroes — a band of serious players whose main reason for not being more prolific is simply that they're too busy doing other things. That makes each of their appearances a special treat, and the crowd spilling down the street from the overstuffed Pour House attested to what a draw they were. Cheetie Kumar, Paul Siler, David Mueller, Missy Thangs and the dual-drummer attack of Jason Alyward and Scott Nurkin kicked off this Hopscotch Music Festival set with a vengeance, tearing into the longform, unreleased jammer "Emblems" before settling into the brand-new "Goin' Under" from their newly-released seven-inch of the same name. With their last full-length LP having dropped in 2010, the band brought out lots of new material to sate those who waited, including most of the Disappearance EP, which like the "Goin' Under" seven-inch is available from Third Uncle Records. The band plays loud, fast guitar rock n' roll with distinct psychedelic overtones, and that and the vocal harmonies echo classic bands like Shocking Blue. Siler and Kumar (a husband and wife team who also own local club King's and the restaurant Garland) were in the well-loved local band Cherry Valence, and the influence of that work is felt here as well. This set was made extra-special by the appearance of improviser-in-residence and one of NYC's most outstanding experimental drummers, Greg Fox, on "Wasted Hours." I'll dedicate this recording to the many Triangle denizens who tried to squeeze into the Pour House too late and missed this one — hope this recording can be a decent substitute!
I recorded this set with Schoeps MK41V microphones at the soundboard cage, together with a soundboard feed from Pour House's veteran sound engineer, Jack. The sound quality is excellent. Enjoy!
 Thanks to Missy Thangs for the setlist and approving the recording.
Download the complete show: [MP3] | [FLAC]
Stream the complete show:

Birds of Avalon
2015-09-12
Hopscotch Music Festival
Pour House
Raleigh, NC USA
Exclusive download hosted at nyctaper.com
Recorded and produced by acidjack
Schoeps MK41V (LOC, PAS)>KCY>Z-PFA + Soundboard (engineer: Jack)>>Roland R-26>2x24bit/48kHz WAV>Adobe Audition CS 5.5 (align, mix down, compression)>Izotope Ozone 5 (effects, EQ, imagage)>Audacity 2.0.5 (track, amplify, balance, downsample, dither)>FLAC ( level 8 )
Tracks [Total Time 40:15]
01 Emblems [new]
02 Goin' Under
03 Guffaws
04 Disappearance
05 Come Loose
06 Eyesore
07 Over Your Shoulder
08 [Greg Fox comes onstage]
09 Wasted Hours
If you enjoyed this recording, PLEASE SUPPORT Birds of Avalon, visit their website, like them on Facebook, and buy the Disappearance EP and "Goin' Under" 7″ from Third Uncle.

[photo courtesy of "Chauncy Buttertooth"]