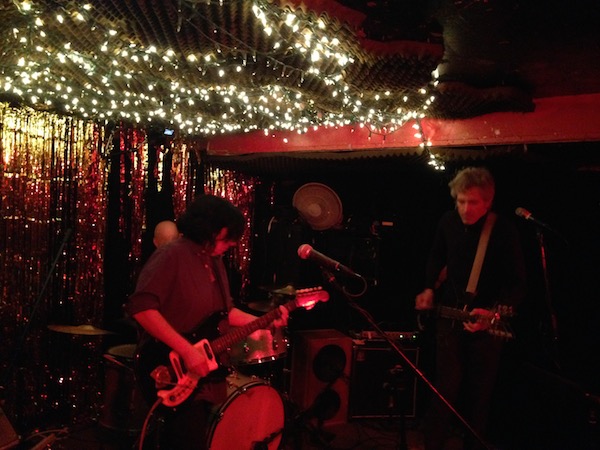 E—also known as A Band Called E—is the experimental rock trio of Thalia Zedek (ex-Come), Jason Sidney Sanford (ex-Neptune), and Gavin McCarthy (ex-Karate). Operating since 2013, the band has remained fairly low key until now. In fact, this Cake Shop performance marks their NYC debut. They've got a 7″ out, but it appears that may be only at the merch table for now as I can't find reference to it on the 'net. So I was a little surprised when they packed the space for their opening set—I guess I'm the only one who didn't get the memo. Luckily I too showed up early to bear witness to E's awesome power. Through eight songs, the band is utterly on fire for their thirty-plus minute set, not straying from the intensity for even a minute. Zedek and Sanford share vocal duties throughout the set and from the interplay of the three musicians (particularly on "I Want to Feel Good"), it's clear that despite remaining low profile they're nevertheless extremely comfortable playing together. I hope their efforts result in an album soon. Until then, please enjoy this recording as much as those who were in attendance.
E will be back in the area on December 8 for a show at Union Pool with NYCTaper-favs, 75 Dollar Bill. Be there!
I recorded this set with the AKG's set up on the ceiling at the edge of the stage, combined with an expert, true stereo board feed from Cake Shop FOH, Clint. The results are nothing short of spectacular. Enjoy!
Download the complete show: [MP3] | [FLAC]
Stream the complete show:

E
2015-10-23
Cake Shop
New York, NY
Exclusive download hosted at nyctaper.com
Recorded and produced by Eric PH
Soundboard (engineer: Clint) + AKG C480B/CK61 (stage lip) > Roland R-26 > 2xWAV (24/48) > Adobe Audition CC (align, mixdown, compression, normalize, fades) > Izotope Ozone 5 (EQ) > Audacity 2.0.5 (downsample, dither, tracking, tagging) > FLAC (16/44.1, level 8)
Tracks [31:49]
01. Regatta
02. I Want to Feel Good
03. The Archer
04. Water
05. Delicate Fingers
06. Silo
07. Treeline
08. Great Light
All songs copyright E, 2015