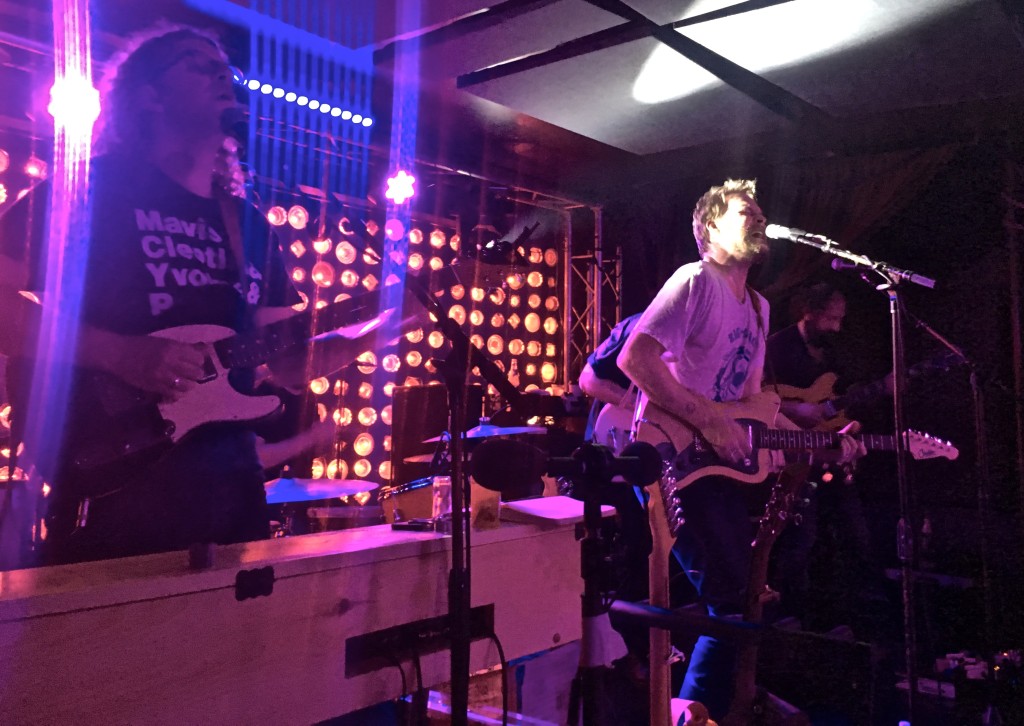 Continuing with the "running out of things to say" theme, I think even the band is starting to wonder if I do much of anything besides attend Hiss Golden Messenger concerts. If you read about the band's doings in Durham, NC earlier last week, you'd know they debuted Heart Like A Levee, an entire new album, before two successive nights of attendees at Duke University. That album should be appearing on Merge Records in due time.
Well, this show at Baby's All Right wasn't that, but that's not to take anything away from this sweaty, raucous show before a sell-out crowd. M.C. Taylor was joined on this jaunt by most of his regular band — the Cook brothers on keys and guitars, Matt McCaughan on drums — with Josh Kaufman taking up additional guitar duties. This show sounded like one by people who've fallen into a comfortable groove, and despite the extremely unpleasant temperature (how you make a club over 100 degrees indoors in the middle of November is a mystery to me) the band sweated through some strong versions of their tour favorites, plus less-heard numbers like "Mahogany Dread," off of Lateness of Dancers, Poor Moon's "Super Blue (Two Days Clean)" and a newly-rocking version of "Brother, Do You Know the Road?" Perhaps out of a sense of self-preservation (the band were so hot their guitars were covered in sweat), we only got one encore, but it was a keeper — Waylon Jennings' "Lonesome, On'ry and Mean."
So, forgive the brevity of this writeup, but if you're already on the train, you can read any of my reviews of recent shows to get a pretty good idea where things are headed. If you're new to the band, well, this is a fine, fine way to take the plunge.
I recorded this set with Schoeps MK5 cardiod microphones at the stage lip, together with Harrison Fore's soundboard feed. The sound quality is excellent. Enjoy!
Download the complete show: [MP3/FLAC]
Stream the complete show:

Hiss Golden Messenger
2015-11-19
Baby's All Right
Brooklyn, NY USA
Exclusive download hosted at nyctaper.com
Recorded and produced by acidjack
Soundboard (engineer: Harrison Fore) + Schoeps MK5c (onstage, ORTF)>KCY>Z-PFA>Roland R-26 (2x24bit/48kHz WAV)>Adobe Audition CS 5.5 (adjust stereo mix of onstage mics, compression, fades)>Izotope Ozone 5 (effects, EQ)>Audacity 2.0.3 (track, amplify, downsample, dither)>FLAC ( Level 8 )
Tracks [Total Time 1:19:17]
01 Saturday's Song
02 Lucia
03 Call Him Daylight
04 Super Blue (Two Days Clean)
05 Mahogany Dread
06 I've Got A Name for the Newborn Child
07 Day O Day (A Love So Free)
08 Brother, Do You Know the Road?
09 I'm A Raven (Shake Children)
10 Blue Country Mystic
11 Southern Grammar
12 [encore break]
13 Lonesome, On'ry and Mean [Waylon Jennings]
Band:
MC Taylor
Phil Cook – Keyboards, Guitar
Brad Cook – Bass
Josh Kaufman – Guitar
Matt McCaughan – Drums
If you enjoyed this recording, PLEASE SHOW YOUR SUPPORT by buying Hiss Golden Messenger's records from Paradise of Bachelors and Merge Records, as well as HGM's online store.