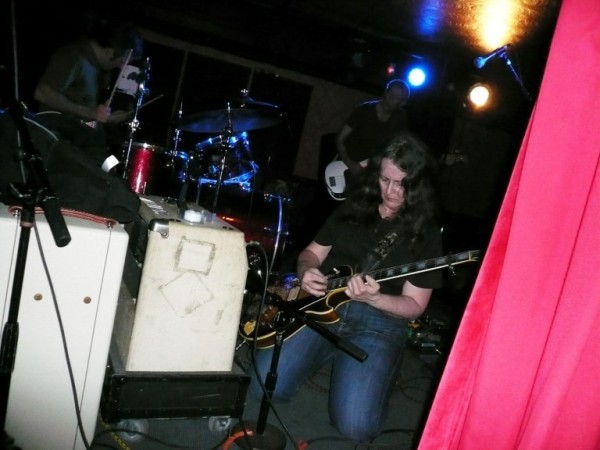 Correspondent Neil D writes: 
I've seen Antietam so many times you'd think I'd be jaded, but it turns out their music has had the opposite effect on me: The more I see them, the more I appreciate them. The punkiest of all the bands in Yo La Tengo's social circle (though technically YLT is in Antietam's circle, as Ira and Georgia's first-ever show was the Louisville-via-New York trio's third-ever), Tara Key, Tim Harris, and Josh Madell keep on putting out record after record of music that's at times raucously cathartic, at times achingly pretty, and often both at once.
Recent Antietam shows have been augmented with Sue Garner (ex-more bands than can fit in this parenthetical) on backing vocals and occasional tambourine, and this was no exception. The most recent Antietam album was 2011's "Tenth Life," but none of those songs appear here: Instead, this set featured seven songs from their in-the-works untitled new album, most notably the unbeatable "I'm So Tired," which kicks in at 11 and then cranks up the dial even further until the thrashing, yowling climax.
As befits a band led by a professional librarian, Antietam has also become a wonderful curator of other bands, playing in recent years alongside such indie rock luminaries as Sleepyhead, Thalia Zedek, The Scene Is Now, Dump, Two Mule Team, and Escape by Ostrich. For this show at Bell House, Antietam followed their fellow Kentuckian Victory Over Sound (not recorded, unfortunately, due to technical problems), and preceded sets by Feelies extended family members Speed the Plough and post-punk semi-super group Heroes of Toolik, recordings of which will follow.
Thanks to Tara Key for helping set up recording permissions, and to the excellent Union Hall soundman whose name I instantly forgot. The show was recorded with Core Sound binaural mics strung from the club's ceiling at acidjack's suggestion, mixed with a soundboard feed that was slightly wonky thanks to the aforementioned technical problems on my end. In any event, the result is a very enjoyable recording, which is all that matters.
Download the complete show: [MP3/FLAC]
Stream the complete show: 

Antietam
2016-01-30
Union Hall
Brooklyn, NY USA
Exclusive download hosted at nyctaper.com
Recorded and produced by Neil D
Soundboard (engineer: David Fine)> Sony PCM-M10 > WAV (24/48) + Core Sound Low-Cost Binaural mics > Church Audio ugly battery box > Sony PCM-M10 > WAV (24/48) > Sound Studio (light EQ and mixing) > FLAC (16/44.1) > Tag > FLAC
Tracks
01 [intro]
02 Right Between Your Eyes
03 Sunshine
04 Automatic
05 Is It Time
06 I Swear
07 Birdwatching
08 I'm So Tired
09 Glide
Check out more Antietam news and music at: https://antietamtheband.wordpress.com/  https://soundcloud.com/antietamlabs  https://carrottoprecords.com/artists/antietam/