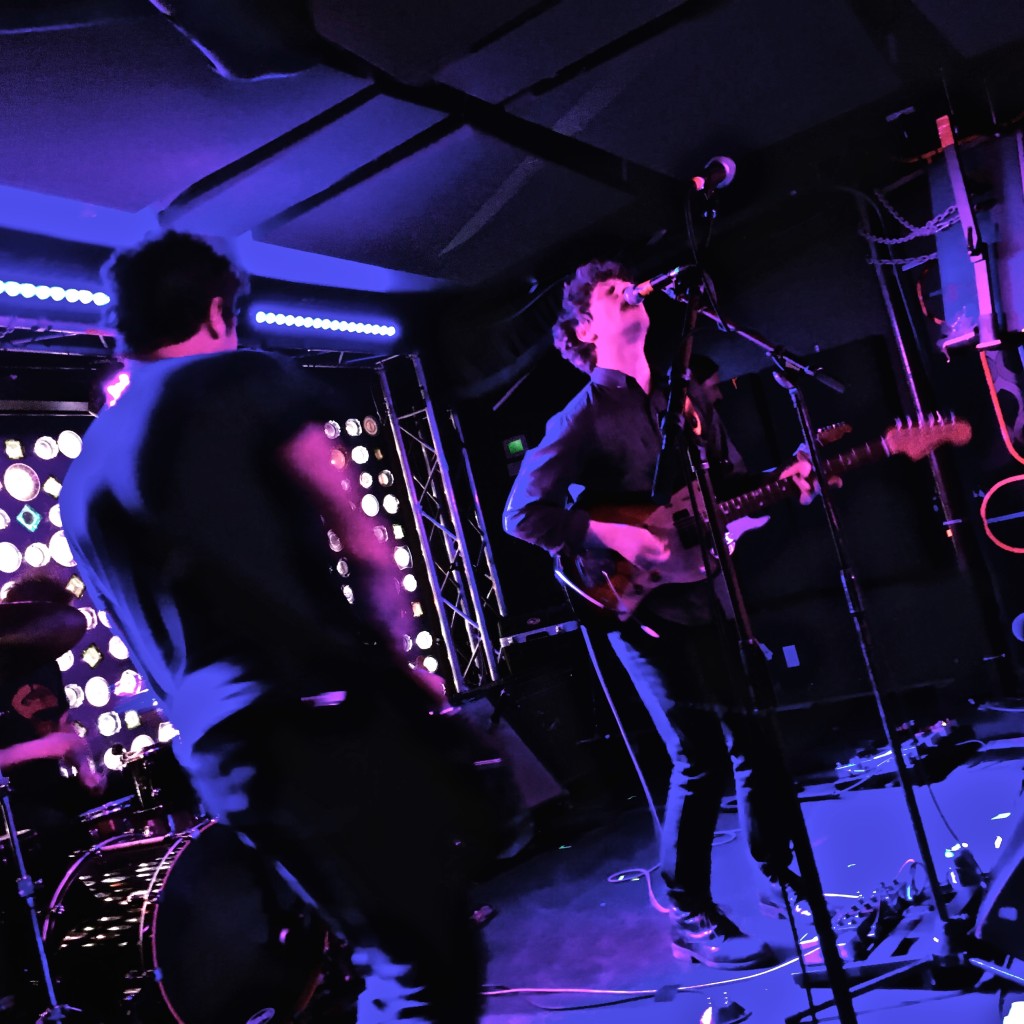 Let's get this out of the way: this is not some thrown-together "tribute"; Disappears had this idea long before Bowie's recent passing. You can hear the evidence on their 2015 live LP, in fact (which you can still find if you look), which captures their full performances at Chicago's Museum of Contemporary Art as part of a "Bowie Changes" series of events. Given what's happened since, this Brooklyn redux of that memorable night took on new meaning, and showed us so much of what to appreciate about live rock music, and Bowie, who was one of the best.
Baby's All Right was its typical self on Saturday night, a convivial hub for Williamsburg partiers and people of good musical taste. Disappears' crowd was one of the better ones, composed mainly of the band's regulars, scenesters and Bowie diehards interested in hearing the band's take. Disappears' material usually draws more comparisons to Joy Division and the Fall than the Thin White Duke, but only if you forget that Bowie had his own krautrock streak, evidenced on Station to Station as well as Low itself, a dissonant, dark piece of work that added to Bowie's mystique as a musical chameleon whose taste rarely missed.
Before any Bowie, of course, Disappears had a full set for us of their own material, kicking off with the propulsive "Joa" followed by "Another Thought" and "I/O," also from last year's excellent Irreal, they decided to play some new material. Of these, my favorite might be "Silencing," a mid-tempo meditation that continues in Irreal's more subdued, textured vein but goes further down that path. Brian Case and bandmates Damon Carruesco, Jonathan van Herik, and Noah Leger (I've said this before, but damn can this guy drum) not only form one of the tightest units in music today, but they carry themselves with an understated poise that you wish you saw more often. Disappears is a band best seen from the front row, where you can watch both Case's kinetic vocal delivery and get the full effect of the hammering of the drums and slink of the bass, urging on the dual guitars. This recording was made from onstage, making it about the closest thing to that experience.
Of course, everyone wants to know about the Bowie set. There are umpteen "tributes" going on these days, many of them hastily arranged for a quick buck and/or nostalgia jolt, and some of the highest-profile events to date have either reeked of gimmickry or have simply fallen flat. Disappears' move was not only refreshing because it actually wasn't a "response" to the artist's passing, but because it took the most direct route: playing a Bowie album with an obvious relationship to Disappears' vision. It's the best kind of tribute, one that honored Bowie by letting his music, alongside Disappears' own, speak for itself.
Most striking about Low as a live set is how distinct the album is to the LP format, with a clear side A of somewhat more conventional rock tracks followed by the dramatic shift of the Eno-driven side B, a languid, ambient affair that felt much farther afield than the rest of the set. That Disappears not only held our attention, but managed to recreate this album live without many of the electronics that defined the album, testifies to their skill as a band. Similarly, side B isn't exactly a party-rock record, but for this crowd, "Warszawa" and "Art Decade" weren't going to clear the room; the crowd tightened in, holding on for the surge of "Weeping Wall," whose operatic sweep might've made you think, had you closed your eyes, that it was Godspeed You! Black Emperor up there making noise with its gaggle of musicians, not four guys. "Subterraneans" made for a subdued ending after that obvious climax, but once again, Disappears gave it the attention it deserved, straight through to the end.
While this Low performance won't be the only one of the tour, there are only a few others scheduled, interspersed among the band's regular tour schedule. You can catch the band Monday in Philly, and Tuesday in Pittsburgh (where they'll do Low again).
I recorded this set with Schoeps MK22 open cardiod microphones onstage for an expansive, up front sound, combined with a soundboard feed of Disappears' FOH Jason Balla's mix, with assistance from Harrison Fore of Baby's in setting it up. The sound quality is outstanding. Enjoy!
Download the complete show: [MP3/Apple Lossless/FLAC]
Stream the complete show:

Disappears
2016-02-20
Baby's All Right
Brooklyn, NY USA
Exclusive download hosted at nyctaper.com
Recorded and produced by acidjack
Soundboard (engineer: Disappears FOH Jason Balla) + Schoeps MK22 (onstage, ORTF)>>Zoom F8>2x24bit/48kHz WAV>Adobe Audition CS 5.5 (adjust stereo image on audience, align, mix down)>Izotope Ozone 5 (effects, EQ)>Audacity 2.0.3 (track, amplify, balance, downsample)>FLAC ( level 8 )
[Total Time: 1:37:05]
Set One (Disappears songs)
01 JOA
02 Another Thought
03 I/O
04 11 Mile House
05 Ultra
06 Alarm
07 Silencing
08 Elite Typical
09 Halcyon Days
Set Two (David Bowie's "Low")
10 [intro]
11 Speed of Life
12 Breaking Glass
13 What In the World
14 Sound and Vision
15 Always Crashing In the Same Car
16 Be My Wife
17 A New Career In A New Town
18 Warszawa
19 Art Decade
20 Weeping Wall
21 Subterraneans
If you enjoyed this recording, PLEASE SUPPORT Disappears, visit their website, and buy Irreal and their other releases here.