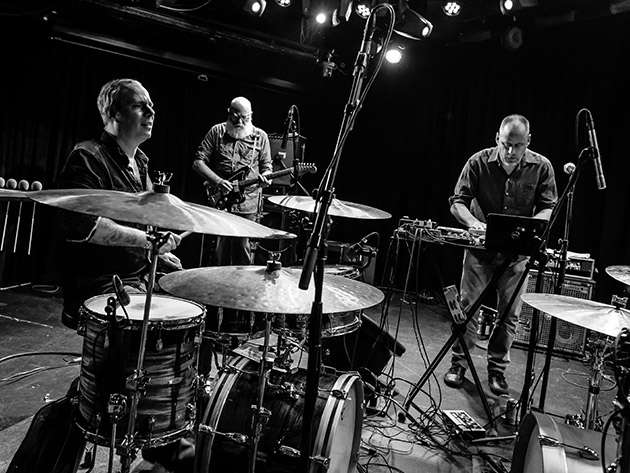 [Photo from Le Poisson Rouge by PSquared Photography]
There are a lot of twentieth anniversaries going around these days: 2016 marks twenty years since Tortoise's Millions Now Living Will Never Die cemented their place in the annals of indie-slash-post-rock. And the last time the band played New York, it was for Thrill Jockey's twentieth anniversary show at Webster Hall in 2012.
Tortoise's return to New York after a four-year absence was a significantly more intimate one, playing the tiny Littlefield in front of a packed, sold-out crowd. And the band didn't do much looking back, as the set focuses most heavily on their new album, The Catastrophist—their first since 2009's rock-y Beacons of Ancestorship. While nothing played dates further back than 1998's TNT, that doesn't mean Tortoise didn't play the hits. Ask anyone what their favorite Tortoise album is and you'll receive a variety of answers, the most likely being Millions… and TNT; however you're also likely to hear votes for Standards and I'll go ahead and stump for the underrated (and perhaps maligned) It's All Around You. Listen to this recording of "Salt the Skies" and then give It's All Around You another listen if you don't believe me. Other modern classics played include "Seneca" with it's signature dual-drummer intro, the slinky "Monica," and the rocking "Prepare Your Coffin."
At this point it's worth mentioning that the Littlefield crowd got to see what could turn out to be the most special moment of Tortoise's current tour, when the band was joined onstage by Georgia Hubley (of Yo La Tengo fame, of course) to sing "Yonder Blue." Hubley guests on that track on The Catastrophist and it's pure geographical luck that the Brooklyn crowd got to experience the collaboration live.
I recorded this set with the AKGs clamped to the soundboard cage, at about 10 feet high. The sound quality is outstanding. Enjoy!
Thanks to Littlefield FOH Todd and the rest of their production team for their help in making this recording happen.
Tortoise are still on tour through at least July and you can see their full listing of dates here.
Download the complete show at the Live Music Archive.
Stream the complete show:

Tortoise
2016-03-17
Littlefield
Brooklyn, NY
Exclusive download hosted at nyctaper.com
Recorded and produced by Eric PH
AKG C480B/CK63 (ROC, FOB, PAS) > Roland R-26 > WAV (24/48) > Adobe Audition CC (compression, normalize, fades) > Izotope Ozone 5 (EQ, exciter) > Audacity 2.0.5 (downsample, dither, tracking, tagging) > FLAC (16/44.1, level 8)
Tracks [01:33:45]
01. [Intro]
02. The Catastrophist
03. Prepare Your Coffin
04. Tesseract
05. Monica
06. In Sarah, Mencken, Christ, and Beethoven There Were Women and Men
07. Hot Coffee
08. Gesceap
09. Blackjack
10. At Odds With Logic
11. Gigantes
12. Eros
13. Salt the Skies
14. [encore break]
15. Yonder Blue (with Georgia Hubley)
16. Seneca
17. [encore break]
18. Shake Hands With Danger
19. High Class Slim Came Floatin' In
Support Tortoise: Website | Facebook | Buy The Catastrophist and more via Thrill Jockey