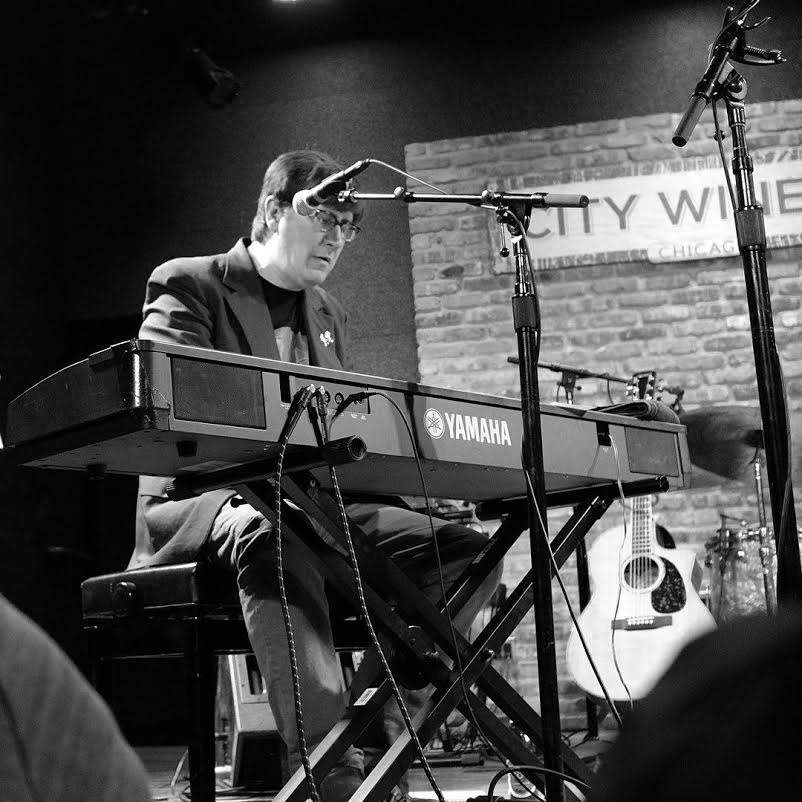 [photo courtesy of music_defined's instagram page]
As noted in our review of the New Haven show, the concept of this Mountain Goats tour grew up around the band's City Winery gigs of last year, of which we recorded both. That the band found inspiration in this particular room isn't surprising; while some younger fans may not be used to seeing bands in more sedate environments, this venue must be an absolute dream for any performer who plays a wide dynamic range of music and whose fans hang on every word. The Mountain Goats took the stage at one of last year's shows not with the type of upbeat number you'd need to launch a typical club gig, but with the gorgeous "Get Lonely," which set the tone for an evening of wide-ranging sounds and deep catalog dives. Yes, the pro-wrestling-themed Beat the Champ made a few appearances, including a stripped-down take on "Foreign Object" and an inspired "Werewolf Gimmick," and an encore of "Southwestern Territory," but the deep dives were the real meat of the evening. John Darnielle reached all the way back to 1993 for "Water Song II," followed by "Horseradish Road," from 2000's Coroner's Gambit, played so rarely of late that Darnielle skipped a verse. Not that a rough spot here or there matters; only the hardest heart wouldn't have wept at the night's fragile, emotional peak, from "Steal Smoked Fish," followed by "Black Pear Tree," to "Lakeside View Apartments Suite" to "Ezekiel 7 and the Permanent Efficacy of Grace," the night's most musically dense number, and a note of hope.
Among many gifts, Darnielle's ability to swing from spinning metaphors about wrestling to such deep emotional fare, and back to lighter-hearted territory like "Damn These Vampires." Despite the seriousness of the material, Darnielle's freewheeling, conversational style with his audience makes the show itself intimate and light; especially in this seated, dinner situation, it feels like being part of a very large living room show. And, as we've noted before, Jon Wurster's drums, Peter Hughes' bass and multi-instrumentalist Matt Douglas give Darnielle a backdrop that adds discipline and welcome twists to both new and old songs.
Darnielle closed with one of the band's most poignant recent numbers, "Spent Gladiator 2." As with "No Children," the closer of the 4/12/15 City Winery show, Darnielle performed most of the song in the audience,  circling through the crowd, singing the lyrics without amplification. That refrain, to stay alive, just stay alive, felt like both the universal plea that it is and a personal one to each of us. If you were lucky enough to be sitting there, having taken in this exceptional hour and a half, you knew life was worth living.
I recorded this set with a feed of engineer Brandon Eggleston's live mix, together with Schoeps MK41V microphones mounted on a post forward of the board. The sound quality, as with all of our City Winery recordings of this band, is exceptional. Enjoy!
Download the complete show from its page on the Live Music Archive: [MP3] | [FLAC]
The Mountain Goats
2016-04-17
City Winery
New York, NY USA
Exclusive download hosted at nyctaper.com
Recorded and produced by acidjack
Soundboard (engineer: Brandon Eggleston) + Schoeps MK41V (FOB, ROC, PAS)>KC5>CMC6>>Zoom F8>2x24bit/48kHz WAV>Adobe Audition CS 5.5 (align, mix
down, adjust levels, light compression)>Izotope Ozone 5 (EQ, effects, image)>Audacity 2.0.5 (track, amplify, balance, downsample, dither)>FLAC (
level 8 )
Tracks [Total TIme: 1:32:53]
01 Woke Up New
02 Until I Am Whole
03 Maize Stalk Drinking Blood
04 [banter1]
05 Werewolf Gimmick
06 Get Lonely
07 [banter2]
08 Foreign Object
09 [banter3]
10 Water Song II
11 Horseradish Road
12 Steal Smoked Fish
13 Black Pear Tree
14 Lakeside View Apartments Suite
15 Ezekiel 7 and the Permanent Efficacy of Grace
16 Wild Sage
17 Damn These Vampires
18 Game Shows Touch Our Lives
19 See America Right
20 The Young Thousands
21 Liza Forever Minnelli
22 [encore break]
23 Southwestern Territory
24 Up the Wolves
25 [banter4]
26 No Children
27 [banter5]
28 Spent Gladiator 2
SUPPORT the Mountain Goats: Website | Twitter | Buy Official Releases | Tour Dates