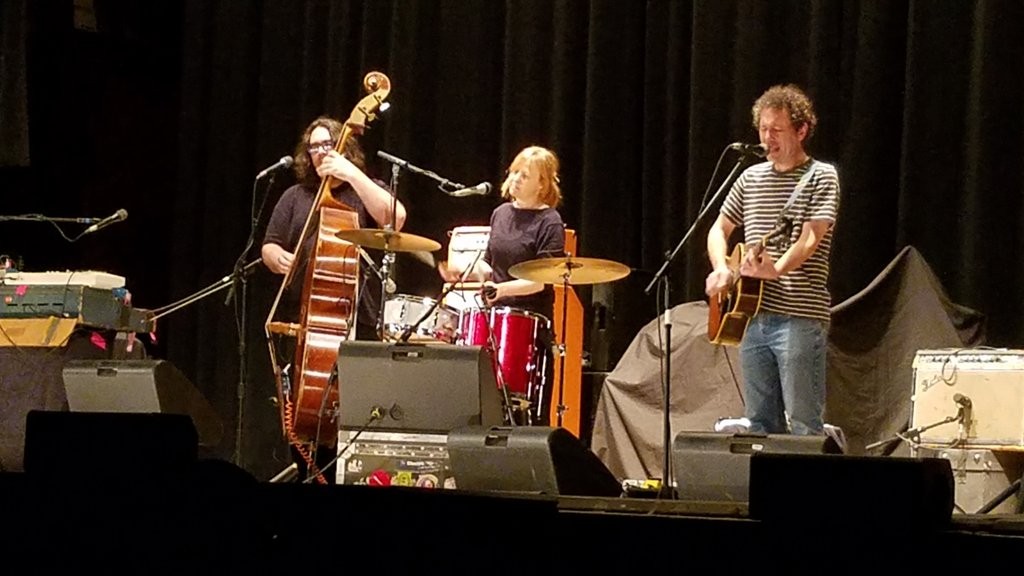 [photo via Bork Lord's twitter feed]
Yo La Tengo ended their most recent tour last Saturday at the shabby-chic Landmark Loew's Jersey Theatre, a cavernous space made intimate by the positive vibes headed from the stage and to it. The usual contingent of longtime fans were out in force for this weekend show, and the band rewarded us with a setlist that reflected their Fade-era habit of dividing the show into acoustic and electric portions. As this tour wasn't, strictly speaking, to promote last year's Stuff Like That There, the band jumped around their catalog a good bit more, with the electric set a particularly sweet offering for the more improvisational-minded among us. The extended outro jam on "Before We Run" that led into the slow version of "Big Day Coming" was a strong moment there, as was the segue of "Sudden Organ," "Autumn Sweater," "Decora," and "Ohm" that made up the bulk of the set. But that's not to slight the acoustic set, either, where the acoustic treatment of "Deeper Into Movies" was particularly affecting, along with new favorites like "Rickety." By the time the encore came around there were the usual calls for hyper-obscure covers (which the band has served up in abundance on multiple WFMU marathons), most of which were ignored, though we did get Wire's "Too Late." The band sent us off, as they often like to do, on a quiet note, with the noisy Electr-O-Pura classic "Tom Courtenay" rendered as a solemn coda with Georgia leading the way on vocals. Now it's time for the band to enjoy a little downtime and recharge the batteries, as they await a handful of summer festival dates. Meanwhile, we'll be excited for what they come up with next.
I recorded this set with a soundboard feed from Yo La Tengo engineer Mark Luecke, together with Schoeps MK41V microphones. Given the challenges of the venue acoustics, this relies heavily on Mark's soundboard feed. The sound quality is, overall, excellent. Enjoy!
Download the complete set: [FLAC/ALAC/MP3]
Stream the complete set:

Yo La Tengo
2016-04-09
Landmark Loews Jersey Theatre
Jersey City, NJ USA
Exclusive download hosted at nyctaper.com
Recorded and produced by acidjack
Soundboard (engineer: Mark Luecke) + Schoeps MK41V (at SBD, PAS)>KC5>CMC6>>Zoom F8>2x24bit/48kHz WAV>Adobe Audition CS 5.5 (align, re-image SBD, adjust levels, mix down, compression, limiter, fades)>Izotope Ozone 5 (EQ, effects, image)>Audacity 2.0.3 (track, balance, downsample, dither)>FLAC ( level 8 )
Tracks [Total Time 2:13:34]
Set One – Acoustic
01 My Heart's Not In It [Darlene McCrea]
02 Periodically Double or Triple
03 Rickety
04 Automatic Doom [Special Pillow]
05 Did I Tell You
06 Black Flowers
07 Somebody's In Love
08 I'll Be Around
09 Deeper Into Movies
10 I Feel Like Going Home
Set Two – Electric
11 [intro jam]
12 Sugarcube
13 Let's Save Tony Orlando's House>
14 Shaker
15 Before We Run>
16 Big Day Coming
17 Sudden Organ>
18 Autumn Sweater>
19 Decora>
20 Ohm
21 Pass the Hatchet, I Think I'm Goodkind
22 [encore break]
23 Drug Test
24 Too Late [Wire]
25 Tom Courtenay (acoustic)
If you enjoyed this recording, PLEASE SUPPORT Yo La Tengo, visit their website, and buy Stuff Like That There and their many other fine releases from Matador Records.