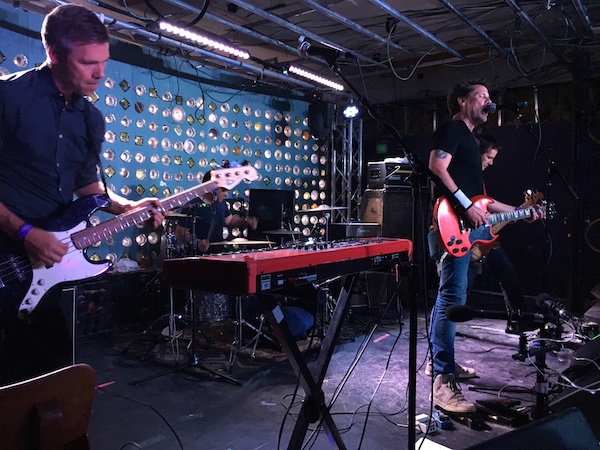 Twenty years ago, in 1996, I turned fifteen. Girls Against Boys were touring their third Touch & Go record, House of GVSB, and were scheduled to play Tramps a little less than a month after my birthday. I somehow scraped together $45, scammed a ride to (Nobody Beats) The Wiz, and bought a simple Aiwa walkman with a record function and a clip-on mono microphone, all in order to document my favorite band.
If you were born anytime after House of GVSB was released, you might not have heard of Tramps or The Wiz; Touch & Go has mostly folded; and it's possible you've never held a walkman. But fortunately, in a limited capacity, Girls Against Boys persist. While the band certainly doesn't play as much as they used to, we got a tour in 2013 (with David Yow contributing some vocals) and even some new music: The Ghost List sounds incredibly vital for any band, much less one that hadn't released new music in eleven years. In 2014, three-fourths of GVSB reactivated their 80's Dischord band Soulside and played a couple gigs at Saint Vitus in support of their reissued final album, Trigger. Lucky DC-ers even got a brief New Wet Kojak gig at the Black Cat. Soulside played some more shows last fall in Philadelphia, Chicago, Los Angeles, and San Francisco.
But back to Girls Against Boys: Last Tuesday the band played their first show since that 2013 tour, a warmup gig in anticipation of their appearance at Riot Fest Chicago. The set starts off with one from 2002's Jade Tree LP, You Can't Fight What You Can't See; but aside from "Basstation" and "Let's Get Killed" (off The Ghost List), it's a lengthy tour of the band's 90's Touch & Go output, featuring their most well-known material from Venus Luxure No. 1 Baby, Cruise Yourself, and House of GVSB. For the hardcore fans, there's the deep cut "Distracted" which appeared on the "Disco Six Six Six" single, and was rarely outed back in the day. The crowd packed into Baby's small, sweaty, and still partially under construction room for what was to be one of the longer GVSB shows I've ever seen. The band were even called back for a second encore of "Rockets Are Red" after the house music had gone on, surely a rare occurrence these days. Aside from some rusty bits here and there and some jokes about their age, I'd swear we were transported back to that '96 tour.
Girls Against Boys have another festival appearance scheduled at the Sound on Sound Festival in Austin, November 5th. I have it on good authority there are plans for another Brooklyn warmup gig beforehand, so keep on a lookout for that.
Update: GVSB will be playing Saint Vitus on November 3rd with the always great SAVAK. Tickets available here.
I recorded this set—with a massive assist from Acidjack who manned the deck while I rocked out—with a pair of mics on stage combined with a board feed from Baby's FOH, Devin. It slays.
Download the complete show: [MP3/FLAC]
Stream the complete show:

Girls Against Boys
2016-09-13
Baby's All Right
Brooklyn, NY
Exclusive download hosted at nyctaper.com
Recorded and produced by Eric PH
Soundboard (engineer: Devin) + AKG C480B/CK61 (on stage) > Roland R-26 > 2xWAV (24/48) > Adobe Audition CC (align, compression, mixdown, normalize, fades) + Izotope Ozone 5 (EQ, exciter) > Audacity 2.0.5 (downsample, dither, tracking, tagging) > FLAC (16/44.1, level 8)
Tracks [1:21:24]
01. Basstation
02. (I) Don't Got a Place
03. Disco Six Six Six
04. Let's Get Killed
05. [banter]
06. Super-fire
07. Click Click
08. [banter]
09. Crash 17 (X-Rated Car)
10. TheKindaMzkYouLike
11. Life in Pink
12. Distracted
13. Tucked-in
14. Cruise Your New Baby Fly Self
15. Cash Machine
16. [banter]
17. Kill the Sexplayer
18. [encore break]
19. Bulletproof Cupid
20. Let Me Come Back
21. [banter]
22. Bughouse
23. [encore break]
24. Rockets Are Red
• Buy The Ghost List via Epitonic
• • Connect with the band via Facebook
• • • Visit gvsb.com