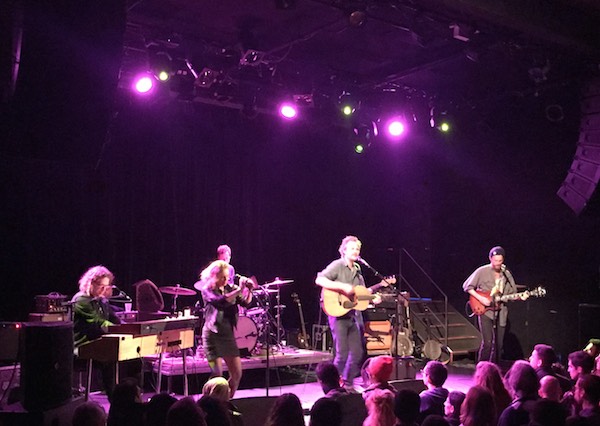 Hiss Golden Messenger's new album, Heart Like a Levee, is one for dark times—and dark times we've got in abundance. Still, last week's tour stop at the Music Hall of Williamsburg was nothing if not uplifting. "Red Rose Nantahala," normally dedicated to North Carolina's horrid (and hopefully former) governor, is here dedicated to "a whole bunch of people," and I think the whole room here in Brooklyn more than ever felt the import of those lyrics, "Well let me be the one I want / Well let me love the one I want." On the lighter side, it was the band's cover of the Grateful Dead's "Brown-Eyed Women" that stole the show. Their version appeared originally on the Day of the Dead compilation and this was apparently the first time it had been attempted live. The epic, thirteen-minute closer "Brother, Do You Know the Road?" (a personal favorite among HGM tunes), fittingly performed to end a set of songs about finding your way home, and on one of the last dates of their tour, will send you off feeling pretty good.
I recorded this set with the mics set up at the soundboard combined with a board feed from the band's touring engineer, Luke. The sound is excellent. Enjoy!
Download: MP3/FLAC
Stream:

Hiss Golden Messenger
2016-11-15
Music Hall of Williamsburg
Brooklyn, NY
Recorded and produced by Eric PH for nyctaper.com
Soundboard [engineer: Luke] + AKG C480B/CK63 (DFC, PAS, at SBD) > Roland R-26 > 2xWAV (24/48) > Adobe Audition CC (align, compression, mixdown, normalize, fades) + Izotope Ozone 5 (EQ) > Audacity 2.0.5 (downsample, dither, tracking, tagging) > FLAC (16/44.1, level 8)
Tracks [2:07:11]
01. As the Crow Flies
02. Biloxi
03. Saturday's Song
04. Mahogany Dread
05. Red Rose Nantahala
06. Day O Day (A Love So Free)
07. [banter]
08. Heart Like a Levee
09. Tell Her I'm Just Dancing
10. O Happy Day
11. Like a Mirror Loves a Hammer
12. Call Him Daylight
13. I've Got a Name For the Newborn Child
14. [banter]
15. I'm a Raven (Shake Children)
16. [banter]
17. O Little Light
18. Flags and Banners [Faces]
19. Say It Like You Mean It
20. Cracked Windshield
21. Lucia
22. Southern Grammar
23. [encore break]
24. Brown-Eyed Women [Grateful Dead]
25. Brother, Do You Know the Road?
If you enjoyed this recording, PLEASE SHOW YOUR SUPPORT by buying Hiss Golden Messenger's records from Paradise of Bachelors and Merge Records, as well as HGM's online store.