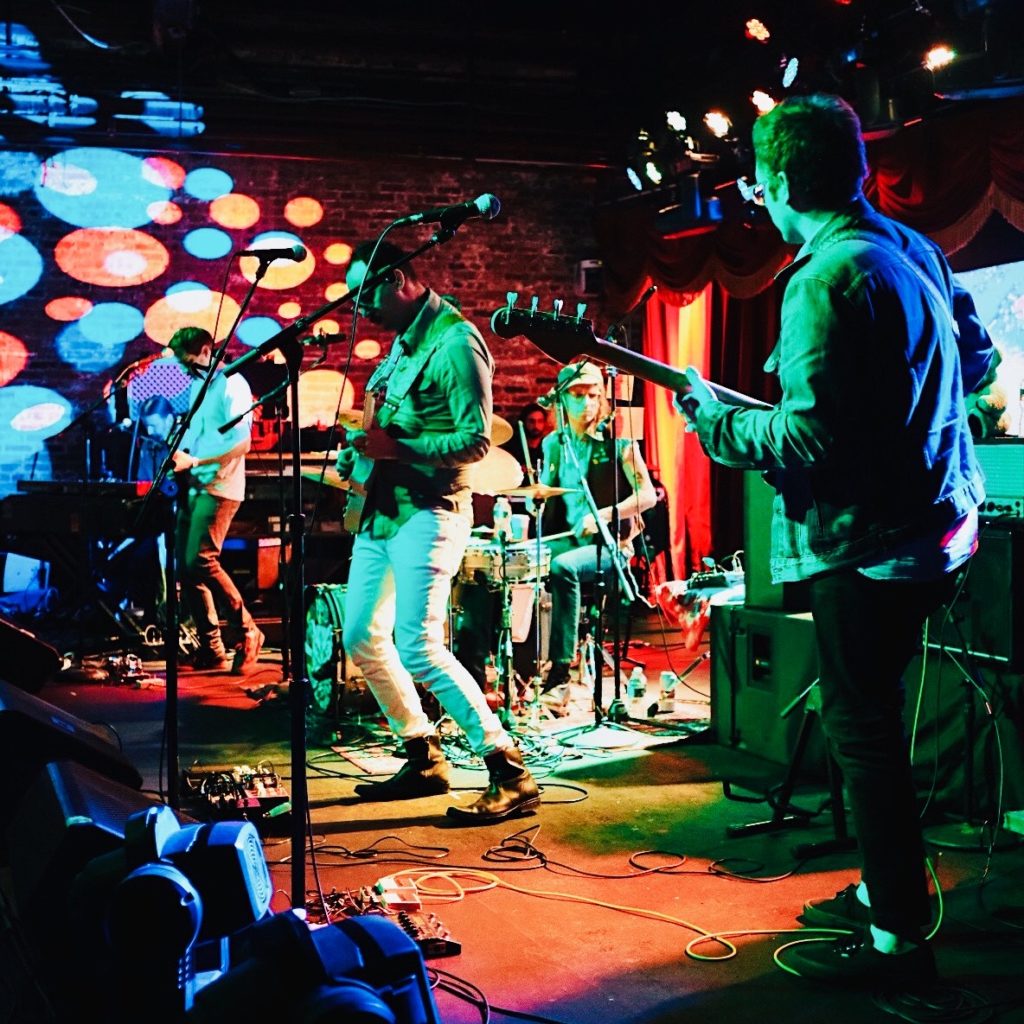 "Never miss a Sunday show," they say. It's a direction local Grateful Dead tribute band High Time have taken entirely to heart, playing almost exclusively Sunday nights throughout Brooklyn venues. Never miss a High Time show is also a pretty good idea: sticking to (let's face it) the highest quality Dead material from '65–'74, High Time promise to perform "The Classic Psychedelic Rock N Roll Music of the Grateful Dead."
I first caught High Time last year during a two-night stand at Union Pool, and on the hottest day of the year the band did some face-melting of their own inside the air-conditioned venue. I finally got to see them again last month at Baby's All Right where they played matinee and late shows. It didn't hurt that they brought along a couple of my favorite bands to open, MV & EE and Elkhorn. It's a real testament to High Time's engagement with music beyond the Dead—quality openers playing original, Dead-influenced music sadly isn't the norm for tribute acts. But then again High Time aren't exactly your run-of-the-mill Dead cover band. They bring a rare energy and spirit to the music, treating it as a living thing instead of putting it behind museum glass with an attempt to create a note-by-note facsimile. Playing intimate venues like Baby's All Right, this is the closest you're going to get to seeing the Dead at the Matrix without time travel.
There were many highlights from last month's shows that I'm excited to share, but the pinnacle of these sets for me was the afternoon's "Playing in the Band" > "Dark Star" > "Eyes of the World" > "Playing in the Band" suite, an absolute rager and you shoulda been there. But if you weren't, have no fear because High Time will be back on Sunday (naturally) April 26 at Brooklyn Bowl. Check out the poster below and grab your tickets. A good time is pretty much guaranteed and you're unlikely to find something better to do than a night of Dead tunes on a Sunday.
Download both Baby's All Right shows in MP3/FLAC
High Time
2020-01-19
Baby's All Right
Brooklyn, NY
On stage recording by Eric PH
Set 1 audience recording by Adam from High Time
Set 2 soundboard recording by Alex Harwood
Mixed and produced by Eric PH for nyctaper.com
Aud (set 1)/Soundboard (set 2) + MBHO KA100DK/603A (on stage) > Naiant PFA >> Sound Devices MixPre-6 > WAV (24/48) > Adobe Audition CC + Izotope Ozone 5 > Audacity 2.0.5 > FLAC
Matinee Show [1:21:15]
01. Jack Straw > They Love Each Other
02. Till the Morning Comes
03. Playing in the Band >
04. Dark Star >
05. Eyes of the World >
06. Playing in the Band
07. [encore break]
08. Brown Eyed Women
Late Show [1:35:15]
01. [Intro]
02. New Speedway Boogie
03. Alligator
04. [banter]
05. Truckin' >
06. The Other One
07. [banter]
08. Scarlet Begonias
09. China Cat Sunflower >
10. I Know You Rider
11. [encore break]
12. Mr. Charlie