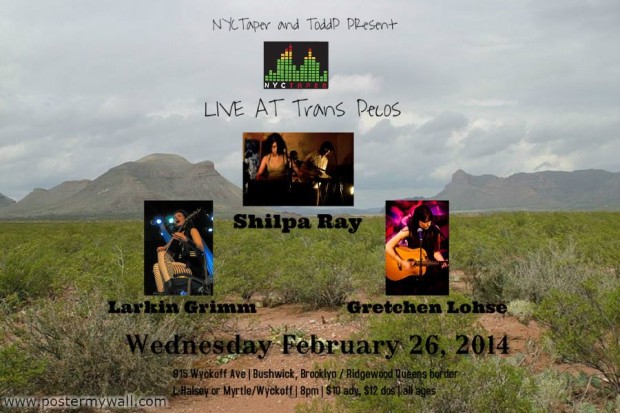 We are very excited to present three outstanding female artists each of whom approach modern music from a different perspective. This Wednesday at Trans Pecos, details below.
Our headliner is the unique Shilpa Ray, who will be performing with a scaled-down version of her excellent band the Happy Hookers. Shilpa recently released a new EP following an extensive tour of Europe in support of Nice Cave. She kept an ongoing journal of her exploits in Europe and it was one of my favorite reads during the Fall. Follow Shilpa on Facebook to read her entertaining and compelling Europe adventure.
In support for this show, we're happy to welcome back the indescribable Larkin Grimm. After her departure from Young God Records and a terrific self-released album (we covered the CD release show), Larkin took some time off to raise her baby son. We are fortunate that she's back performing live, and after a couple of smaller gigs this month, this show will be a coming out party of sorts for this incredible performer.
Gretchen Lohse is a young woman from Philadelphia who is going places. She released her debut solo album Primal Rumble in December and the rave reviews have been piling in — and well deserved. Its an intense personal folk album that conjures up comparison to early Sharon Van Etten.
Trans Pecos is the new ToddP venue located in the old Silent Barn space.
====| Wednesday 2/26 @ Trans Pecos |====
NYCTaper and ToddP present:
11:00 || Shilpa Ray & Her Happy Hookers
10:00 |||| Larkin Grimm
09:00 |||||| Gretchen Lohse
|Trans Pecos |
915 Wyckoff Ave | Bushwick, Brooklyn / Ridgewood Queens border
L-Halsey or Myrtle/Wyckoff | 8pm | $10 adv, $12 dos | all ages
Facebook Event Page [HERE].