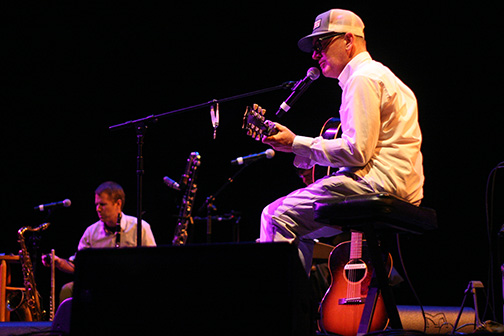 [Photo courtesy of Kevin Norris at Triangle Music Blog.  Many other Hopscotch Festival photos can be found there]
While Sunn O))) were blowing minds and eardrums next door in Raleigh's Memorial Auditorium, the Nashville band Lambchop gave this year's Hopscotch Music Festival a more quiet but no less satisfying valedictory. Responsible for what is widely hailed as a career-defining record this year (Mr. M) Lambchop have little left to prove after a 20-year career, but clearly much left to give. Frontman Kurt Wagner and the band kept the volume in this moderately-sized opera house low for almost their entire set, and a rapt and respectful crowd set the tone for a performance that leaned heavily on Mr. M.  Subtlety and grace are Lambchop's calling cards, and that was no different on this night, as Wagner and the band gave a classic performance. Having missed their NYC show at the Bell House this spring, I for one am thrilled to have this document as an introduction to the new material in the live setting.
This set was recorded by the North Carolina taper "bryonsos" with 3 Zigma CHI custom American-made microphones. While the low volume in the house and a low-end-heavy mix presented some challenges, after careful editing, this is an excellent recording. Enjoy!
Stream "2B2"

Direct download of MP3 files [HERE] | Direct download of FLAC files [HERE]
If the FLAC link is no longer working, email nyctaper for the FLAC files
Follow acidjack on twitter
Check out all of NYCTaper's Hopscotch Festival recordings
Note: All of the material on this site is offered with artist permission, free to fans, at our expense. The only thing we ask is that you download the material directly from this site, rather than re-posting the direct links or the files on other sites without our permission. Please respect our request.
Lambchop
2012-09-08
Hopscotch Festival
Fletcher Opera Theater
Raleigh, NC USA
Exclusive download hosted at nyctaper.com
Recorded by bryonsos
Produced by acidjack
3 Zigma CHI microphones (cardiod, DFC, DIN)>Sound Devices MixPre>Sony PCM-M10>24bit/44.1kHz WAV>Izotope Ozone 5 (EQ, tube effects)>Audacity 3.0 (set fades, envelope crowd noise, light DR compression, adjust volume, downsample to 16bit)>FLAC ( level 8 )
Tracks [Total Time 1:17:29]
01 Betty's Overture
02 Gone Tomorrow
03 Sharing A Gibson With Martin Luther King
04 If Not I'll Just Die
05 The New Cobweb
06 Mr. Met
07 Nashville Parent
08 [banter]
09 The Book I Haven't Read (Fearless)
10 Prepared
11 The Good Life (Is Wasted)
12 Women Help to Create the Kind of Men They Despise
13 [banter]
14 Nice Without Mercy
15 New Cobweb Summer
16 [banter]
17 2B2
18 Never My Love
If you enjoyed this recording, PLEASE SUPPORT Lambchop, visit their website, and buy their official releases directly from Merge Records [HERE]