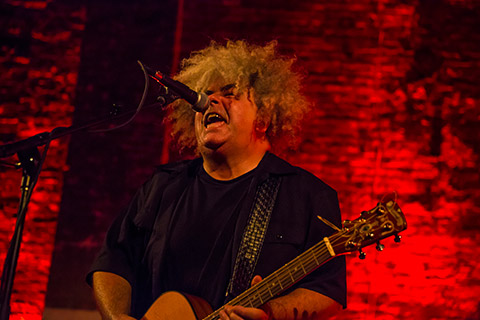 [Photos courtesy of P Squared Photography]

For over 30 years, Buzz "King Buzzo" Osborne and the Melvins have made their own brand of heavy rock, 'sludge', an institution.  While that has had a huge influence on music, including helping birth the kinder, gentler 'grunge' genre, Melvins continue to stand apart from the crowd with a sound that is instantly recognizable.  When Buzzo decided to record and release his first acoustic album this year, the excellent 'This Machine Kills Artists', it was definitely a departure from what he's known for, but not completely unexpected from a performer who has been blazing his own trail for decades.  With Melvins being a favorite of ours and having appeared on this site several times, we were excited to hear that he was embarking on a solo tour in support of the new disc and relished the opportunity to catch his stop at The Wick, a new venue in the Bushwick area of Brooklyn.  Onstage with little more than an acoustic guitar, a microphone and his trademark hair, King Buzzo kicked his set off with the dramatic "Boris" and proceeded to keep the respectful Brooklyn crowd (aside from one overly enthusiastic attendee) in rapt attention for the next 75 minutes.  Peppered with anecdotes, observations and a hilarious story about Mike Patton, Buzz proved to be quite the raconteur.  His great combination of new songs, Melvins staples from their vast catalog and engaging, interactive banter made for a show that I could easily enjoy almost every night.
We recorded King Buzzo in the same manner as Mary Halvorson's opening set with a stereo pair of Countryman B3 omni microphones placed onstage. While there is some ambient noise at times, the overall quality and clarity is excellent thanks to Buzzo's sound engineer, Dave, and The Wick's FOH, Joe. Enjoy!
Special thanks to King Buzzo, Joey Massa, Chris White, John Seroff and the staff at The Wick for making this recording possible and for their courtesy and cooperation.
Stream "Rough Democracy":

Stream "We Are Doomed":

Direct download of the complete show in MP3 [HERE]
Direct download of the complete show in FLAC [HERE]
If any of the links are no longer working, email nyctaper with a request for the download location of the files.
Follow Johnny Fried Chicken Boy on Twitter
Note: All of the material on this site is offered with artist permission, free to fans, at our expense.  The only thing we ask is that you download the material directly from this site, rather than re-posting the direct links or the files on other sites without our permission.  Please respect our request.
King Buzzo
Monday, July 14, 2014
The Wick
Brooklyn, NY, USA
Source: AUD > Countryman B3 > MM-CBM-Mini > Roland R-05 (WAV @ 24-bit/48kHz)
Lineage: R-05 > PC > Adobe Audition (mixdown, downsample, dither, tracking) > WAV (16-bit/44.1kHz) > TLH (check/fix SBEs, FLAC conversion) > FLAC ( level 8 )
Recorded and produced by: Johnny Fried Chicken Boy
SETLIST:
[Total time: 1:15:47]
01. [intro]
02. Boris
03. The Ballad of Dwight Frye [Alice Cooper]
04. Suicide in Progress
05. [banter 1]
06. Dark Brown Teeth
07. Rough Democracy
08. Laid Back Walking
09. Drunken Baby
10. [banter 2 – Mike Patton]
11. Evil New War God
12. The Vulgar Joke
13. How I Became Offensive
14. [banter 3]
15. We Are Doomed
16. Hooch
17. Revolve
If you download this recording, we expect that you will PLEASE SUPPORT King Buzzo and Melvins, visit their website and Facebook page, and purchase 'This Machine Kills Artists' at Amazon, iTunes, or your local record store.  And definitely go see Buzz and the Melvins live.