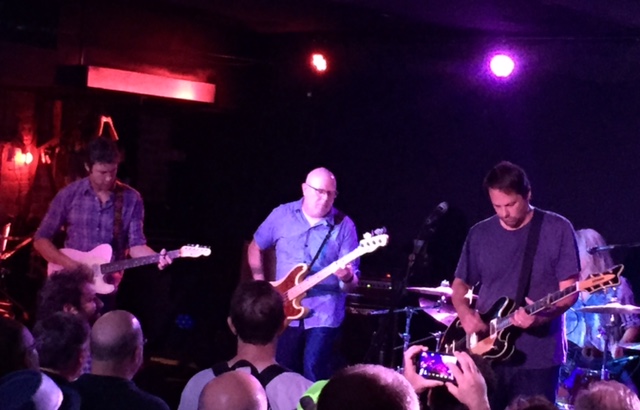 Eleventh Dream Day is one of those bands that you can't believe never became more famous. The Chicago stalwarts — whose core includes singer/guitarist Rick Rizzo, bassist Doug McCombs (also of Tortoise and Brokeback) and drummer/singer Janet Bean (also of Freakwater), now joined by guitarist Jim Elkington (Tweedy) and keyboardist Mark Greenberg — have been at this since the 1980s, and are often hailed as the Midwest's answer to Yo La Tengo. There's some truth to that, to be sure, in terms of what their musical choices suggest about their record collections, as well as the more obvious female drummer comparison, but EDD put forth a harder-edged, more blue collar aesthetic than their NYC counterparts. Nobody ever tags the oft-heralded YLT as "underrated," either. Like a lot of bands that got swept up in the post-Nirvana gold rush, Eleventh Dream Day weren't so much "underrated" as "screwed over by major label incompetence," but nobody is denying that they belonged on bigger stages. Unlike the majority of their peers who found themselves in the same spot they persevered, and even thrived, as part of the underground where they belonged in the first place.
EDD's tour this year consisted of a scant four dates built around the members' other commitments, and we were lucky enough to get one of them at Mercury Lounge. The vets are out flogging their latest release, Works For Tomorrow, which also has the distinction of being one of the very best among their deep catalog. The band came out swinging with the the album's title track, followed by the new (and arguably album-defining) "Vanishing Point" and "Go Tell It" before heading into the hyper-political "The People's History." Bean and Rizzo's interplay as vocalists works well, such as on the new "The Unknowing." After that, we got one of the band's older tracks, "Bagdad's Last Ride" from 1989's Beet. Before heading back into new material, the band treated us to one of the night's two covers, this one the Wiper's "Taking Too Long." Fans of the old-school material had plenty to love in "Orange Moon" from 1994's Ursa Major, whose dark lyrics seemed more deeply felt on this go than on the album original. The second cover, an rocked-up version of Judy Henske's damaged-folk jam "Snowblind," might well have been the night's culminating moment, letting Bean match Henske's gasoline-drinking vocals as the guitarists got some room to shred. It's not really fair to call a band of this impact "Chicago's Yo La Tengo." Eleventh Dream Day are Chicago's Eleventh Dream Day, and they did their home city and their fans proud with this one.
I recorded this set with a soundboard feed from Dave Lefcourt, combined with Schoeps MK41V supercardiod microphones. The sound quality is outstanding. Enjoy!
Download the complete show: [MP3] | [FLAC]
Stream the complete show:

Eleventh Dream Day
2015-08-21
Mercury Lounge
New York, NY USA
Exclusive download hosted at nyctaper.com
Recorded and produced by acidjack
Soundboard (engineer: Dave Lefcourt) + Schoeps MK41V (PAS)>KCY>Z-PFA>>Roland R-26>2×44.1kHz WAV>Adobe Audition CS 5.5 (mix down, compression, fades)>Izotope Ozone 5 (EQ, effects, imaging)>Audacity 2.0.5 (track, amplify, balance, dither)>FLAC ( level 8 )
Tracks [Total Time: 1:09:25]
01 Works For Tomorrow
02 Vanishing Point
03 Go Tell It
04 The People's History
05 The Unknowing
06 Bagdad's Last Ride
07 Taking Too Long [The Wipers]
08 Deep Lakes
09 End With Me
10 Cheap Gasoline
11 [banter1]
12 Orange Moon *
13 [encore break]
14 Snowblind [Judy Henske]
15 Tarantula
* w/ Matt Rizzo
If you enjoyed this recording, PLEASE SUPPORT Eleventh Dream Day, visit their website, and buy Works For Tomorrow from Thrill Jockey.