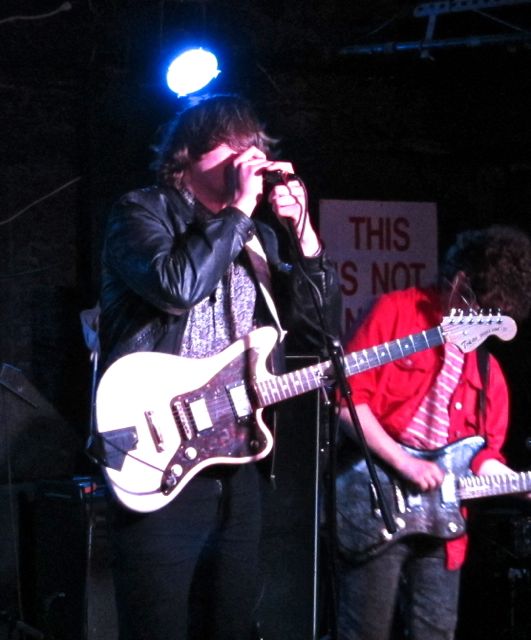 [Photos by acidjack]
The Finnish band French Films isn't yet well-known here in the U.S., but that seems poised to change. Like their fellow travelers Hooded Fang, who they joined for this Mercury Lounge bill, they have a reasonably deep repertoire (they formed in 2010) as well as the chops to deliver it live. Taking their cues sonically from Beatlesque pop and the early-aughts New Wave revival, the band's sound combines their propensity for hummable hooks with a darker tinged edge. What they've done so far was good enough to earn them a European Border Breakers Award, which honors the best new musical acts across Europe, and they are using that to jumpstart their foray into the U.S., which also included a show at Glasslands a few days before this show. This set, which drew the largest crowd of the night, found them playing their European hit, "Escape In The Afternoon", along with material from this year's release, White Orchid. One of the band members noted his attendance at an early Strokes show at this same venue, and I feel like a little pixie dust from those legendary shows from last decade rubbed off on these guys and their excellent set as well.
I recorded this set with Schoeps MK41 supercardiod microphones and a soundboard feed provided by French Films' traveling FOH. The sound quality is excellent. Please note that the set has some songs removed, at the band's request. Enjoy!
Stream "Golden Sea"

Direct download of MP3 files [HERE] | Direct Download of the FLAC files [HERE]
Note: All of the material on this site is offered with artist permission, free to fans, at our expense. The only thing we ask is that you download the material directly from this site, rather than re-posting the direct links or the files on other sites without our permission. Please respect our request.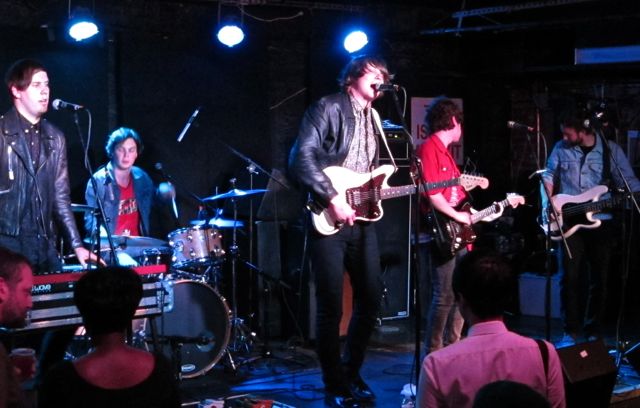 French Films
2013-06-04
Mercury Lounge
New York, NY USA
Exclusive download hosted at nyctaper.com
Recorded and produced by acidjack
Schoeps MK41>KCY>Z-PFA>Sound Devices USBPre2 + Soundboard >> Edirol R-44 [OCM]>2x24bit/48kHz WAV>Adobe Audition CS 5.5 (align, adjust levels, mix down)>Izotope Ozone 5 (tape effects, EQ)>Audacity 3.0 (fades, tracking, amplify, balance, downsample)>FLAC ( 8 )
Tracks
01 White Orchid
02 Convict [not included at artist request]
03 [banter1]
04 Ridin' On [not included at artist request]
05 Golden Sea
06 [banter2]
07 Long Lost Children [not included at artist request]
08 Where We Came From
09 Escape In the Afternoon [not included at artist request]
10 Special Shades
11 When People Like You Filled the Heavens [not included at artist request]
12 [banter3] [not included at artist request]
13 Pretty In Decadence [not included at artist request]
14 You Don't Know
If you enjoyed this recording, please support French Films, visit their Facebook page, and buy White Orchid and their other releases from iTunes or your favorite retailer.