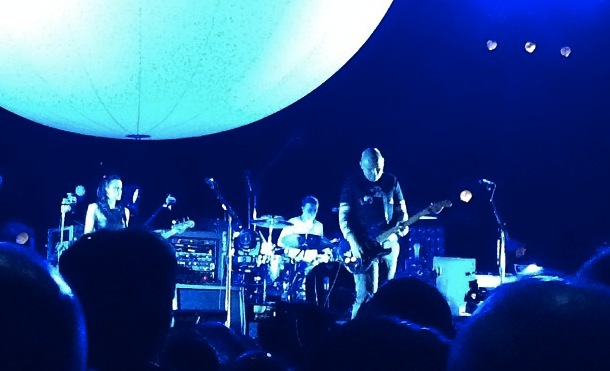 [photos courtesy of Jill and For the Love of Brooklyn]
Originally the Smashing Pumpkins were slated to play their first NYC arena show in over 15 years at the newly-opened Barclays Center on Halloween. The last time Billy Corgan and company rocked Madison Square Garden was in 1997 during the heights of Mellon Collie and the Infinite Sadness. Unfortunately, Hurricane Sandy had other ideas.
The band ended up rescheduling the show at Barclays on December 10th, which coincided with the end of their current North American tour. Corgan announced earlier this year that the band would be playing their new album Oceania in its entirety. The album has received almost universally positive coverage amongst music critics, many of whom have compared it to the classic Pumpkins sound popularized by albums like Siamese Dream and the aforementioned Mellon Collie.
After our last encounter with the band at Terminal 5 last year (which made our Top 25 of 2011 list), we knew we were in for a treat.  Plus, we were looking forward to our first Barclays experience, which ended up being a highly positive one with great concessions, a friendly staff, and a surprisingly good sound system. In addition to a full album run-through, the band played a set of the hits with stand-outs like "X.Y.U.", "Hummer" and "Cherub Rock."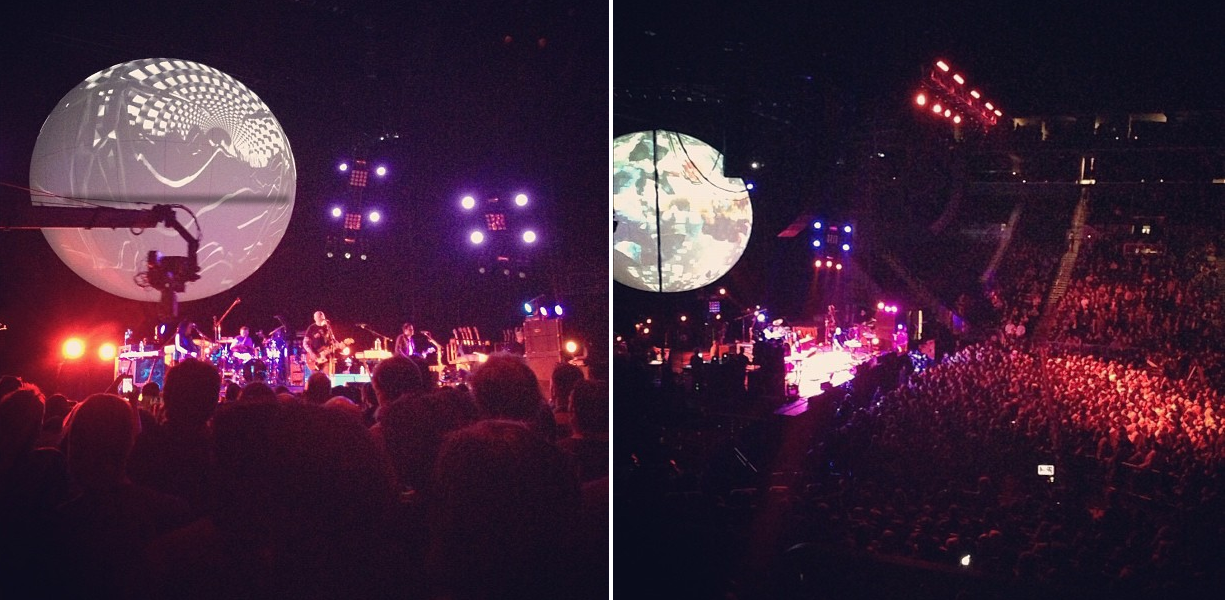 One of the highlights of the show beyond the music was the giant glowing orb on stage. The Pumpkins collaborated with graphic artist 
Sean Evans
 earlier this year to develop visuals for the tour, which 
used
 digital mapping technology to project video and images on the sphere. In one of the most poignant moments of the show, the orb featured original scenes from 
Georges Méliès
's 
silent film
A Trip to the Moon, 
which was the original inspiration for the classic
"Tonight, Tonight" music video.
I was most surprised by my response to "Tonight, Tonight." I often skip that song when I listen to Mellon Collie, but in concert it's just sort of undeniable, and you realize that its sentiment is the key to understanding what Corgan has been trying to do with his music for all these years. It's a song that blasts cynicism, and rejects the notion that any creative ambition is too crazy to be considered. I can think of a bunch of times recently when I was talking to someone who was really down on themselves, and I had to fight myself not to tell them "life can change, you're not stuck in vain" because it's corny to quote a Smashing Pumpkins song to someone who is genuinely distraught. But man, that line is so true. That whole song is so true.
Indeed, especially in light of Hurricane Sandy and all that led to the rescheduling of this show, this positivity and nostalgia was so refreshing. If the performance at the Barclays Center is a beacon of things to come, we can't wait. I recorded this set up close with the Dynamic Audio Binaural microphones that I personally designed and built. The sound is in-your-face and excellent. Enjoy!
Stream "Pinwheels"
Audio clip: Adobe Flash Player (version 9 or above) is required to play this audio clip. Download the latest version here. You also need to have JavaScript enabled in your browser.
Stream "Tonite Reprise > Tonight, Tonight"
Audio clip: Adobe Flash Player (version 9 or above) is required to play this audio clip. Download the latest version here. You also need to have JavaScript enabled in your browser.
This Recording is now available for Download in FLAC and MP3 and to Stream at Archive.org [HERE].
Note: All of the material on this site is offered with artist permission, free to fans, at our expense. The only thing we ask is that you download the material directly from this site, rather than re-posting the direct links or the files on other sites without our permission. Please respect our request. Note that this show will be uploaded to the Live Music Archive shortly. Please do not upload to the LMA on our behalf.
The Smashing Pumpkins
Barclays Center
Brooklyn, NY, US
2012-12-10
Recordist : hi and lo
Source : DAB > DA-120F > Sony PCM-M10 @ 24 bit / 48 kHz
Edit : WaveLab V6 (EQ/Fades/Resampling/Dither)
Final Format : 16 bit, 44.1 kHz
Tracking : CD-Wave v1.98
Encoding : FLAC v1.2.1 Level 8 with TLH v2.6.0 (Build 168)
Tracklist:
01. Intro
02. Quasar
03. Panopticon
04. The Celestials
05. Violet Rays
06. My Love Is Winter
07. One Diamond, One Heart
08. Pinwheels
09. (Banter)
10. Oceania
11. Pale Horse
12. The Chimera
13. Glissandra
14. Inkless
15. Wildflower
16. Space Oddity [Bowie]
17. X.Y.U.
18. Disarm
19. Tonite Reprise
20. Tonight, Tonight
21. Bullet with Butterfly Wings
22. Introduce the Band
23. The Dream Machine
24. Hummer
25. (Encore Call)
26. Ava Adore
27. Cherub Rock
28. Zero
Running Time: 2:21:29
If you enjoyed this recording, please support Smashing Pumpkins, visit their website, and purchase Oceania as well as the newly-reissued versions of their 90s records including Mellon Collie and the Infinite Sadness at their official store [HERE]