[Photos by acidjack]
Ski Lodge are the perfect band to write about on a day when temperatures in NYC are set to hit around 100 degrees. Contrary to the name, they are a summer band, inspired by frontman Andrew Marr's trip to a Florida beach. Chosen by the L Magazine as one of their "8 Bands You Need to Hear", this daytime showcase at Spike Hill during the Northside Festival showcased four of such acts, with Ski Lodge the final act on the bill. It wasn't hard to figure out where the L folks were coming from; Marr and his band make surf-inspired pop insta-classics (like "A Game", streaming below) that are delivered with understated confidence. The sizable crowd for this day show – on another scorchingly hot day, incidentally – attested to the appeal of the band and its style. I won't be surprised if Ski Lodge quickly finds favor with fans of acts like Surfer Blood, The Smiths, Vampire Weekend and Beach Fossils, among others. Marr is a trained classical pianist, and has a classic, crooner-style vocal that helps define the band's laid-back aesthetic. The band currently has a four-song EP out on Dovecote Records, but expect a full-length LP sometime this year.
I recorded this set with Schoeps MK5 microphones and a stereo soundboard feed provided by the house engineer at Spike Hill. The house mix and overall room sounded excellent, and this recording is a reflection of that. Enjoy!
Thanks to Spike Hill, Ski Lodge and the Northside Festival.
Stream "A Game"
Audio clip: Adobe Flash Player (version 9 or above) is required to play this audio clip. Download the latest version here. You also need to have JavaScript enabled in your browser.
Stream "I Would Die To Be"
Audio clip: Adobe Flash Player (version 9 or above) is required to play this audio clip. Download the latest version here. You also need to have JavaScript enabled in your browser.
Direct download of MP3 files [HERE] | Direct Download of the FLAC files [HERE]
Follow acidjack on twitter
Note: All of the material on this site is offered with artist permission, free to fans, at our expense.  The only thing we ask is that you download the material directly from this site, rather than re-posting the direct links or the files on other sites without our permission.  Please respect our request.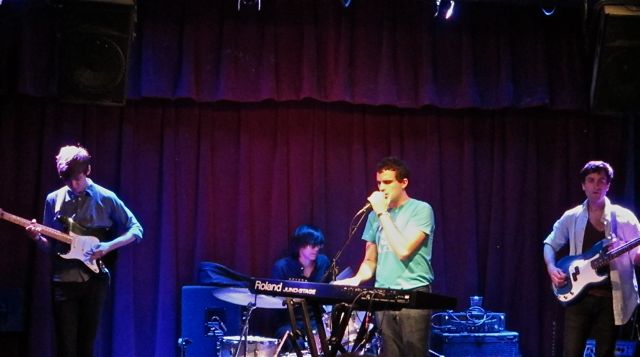 Ski Lodge
2012-06-16
Spike Hill
Brooklyn, NY USA
Exclusive download hosted at nyctaper.com
Recorded and produced by acidjack
Schoeps MK5 (cardiod, slightly LOC, PAS)>KC5>CMC6>Sound Devices USBPre2 + Soundboard >> Edirol R-44 [Oade Concert Mod]>2x24bit/48kHz WAV>Adobe Audition CS 5.5 (mixdown)>Izotope Ozone 5 (EQ, effects)>Audacity (set fades, tracking, amplify and balance)>FLAC (level 8 )
Tracks
01 Chandeliers
02 I Always Thought
03 A Game
04 [tuning]
05 Boy
06 You Can't Just Stop Being Cruel
07 I Would Die To Be
08 Just To Be Like You
09 Dragging Me To Hell
If you enjoyed this recording, PLEASE SUPPORT Ski Lodge, like them on facebook, and purchase their EP directly from Insound (on vinyl) or from iTunes.