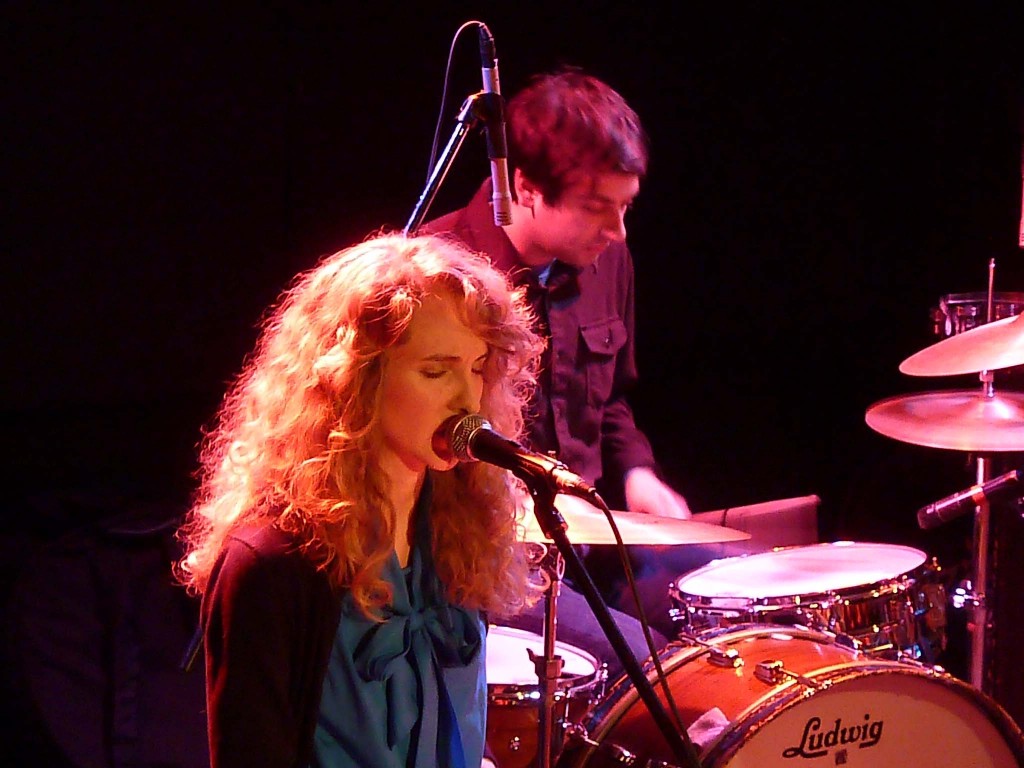 [Photos courtesy of Geoffrey Dicker for According to G]
Just eight months into its existence, Tennis is a success story. Many bands toil in obscurity for years hoping to break it big (in the NYC scene at least) by headlining Bowery Ballroom; Tennis have already accomplished that feat with a full-on sellout as the icing. This unlikely story of a band born out of husband and wife Patrick Riley and Alaina Moore taking a seven-month sailing trip down the Atlantic coast, and deciding to turn it into a record, has resonated big-time in the indie world. People are paying attention undoubtedly because the nautical, retro conceit of their debut album, Cape Dory, is so unusual, but the band has got the songs to keep people interested. The band's breezy sound, equal parts girl group and surf rock, is easy to like, an effortless-sounding sort of country club indiepop that the kids can get into, but is probably safe for the parents, too.
Tennis' live performance is confident and unselfconscious as well (one advantage of being in a band with your spouse, perhaps). Moore introduced many songs by name, some with a bit of charming backstory. Of the new song, "Robin": "Patrick doesn't like me to say what it's about – it's too cute-seeming – but it's about a baby bird that we saved last month." Like the hilariously retro album cover for Cape Dory (Moore in a tight aqua jumpsuit with the band's name etched in a hair metal font above her), Tennis are nothing if not cute. Although the show was notably brief at almost exactly 42 minutes, the band packed in a lot of music, including their signature number "Marathon" featuring Katy Goodman, lately of the excellent La Sera (whose opening set was also recorded and to be posted soon) and more famously of the Vivian Girls, and Molly Hamilton of the stellar new band Widowspeak on backing vocals. With spring and summer approaching, Tennis should be a fixture on indie fans' playlists for the next few seasons (and of course, should be a staple on any sailing trips they may be taking).
I recorded this set from our usual spot in the venue with a combination of the Microtech-Gefell hypercardioid microphones and DPA omnidirectional microphones for room ambiance. Although there is some audible buzzing from the PA between songs (caused by the band's instruments) the sound is crystal clear and a great listen. Enjoy!
Stream "South Carolina":
Audio clip: Adobe Flash Player (version 9 or above) is required to play this audio clip. Download the latest version here. You also need to have JavaScript enabled in your browser.
Stream "Marathon":
Audio clip: Adobe Flash Player (version 9 or above) is required to play this audio clip. Download the latest version here. You also need to have JavaScript enabled in your browser.
Direct download of MP3 files [HERE]
Download the Complete show in FLAC [HERE].
Tennis
2011-03-02
Bowery Ballroom
New York, NY USA
An acidjack master recording
Recorded and produced by acidjack for nyctaper.com
Equipment: Microtech-Gefell M210+DPA 4061>Edirol R-44 [Oade Concert Mod] (24/48)
Position: LOC, at soundboard, mics on extension arm at eye level with sound staff, 210s pointed at stacks, 4061s mounted on a 1.5ft split
Mastering: 2x24bit/48kHz WAV>Audacity (mixdown, downsample, set fades, limit peaks, amplify and balance)>FLAC ( level 8 )
Tracks [Total Time 43:48]
01 Seafarer
02 Take Me Somewhere
03 banter
04 Cape Dory
05 banter
06 Robin
07 banter
08 Baltimore
09 Bimini Bay
10 banter
11 Long Boat Pass
12 [unknown]
13 banter
14 Marathon [with Katy from La Sera and Molly from Widowspeak]
15 Pigeon
16 Waterbirds
17 South Carolina
18 banter
19 Hard Times
If you download this recording from NYCTaper, we expect that you will PLEASE SUPPORT Tennis, visit their bandcamp page, and purchase Cape Dory directly from Fat Possum Records here.