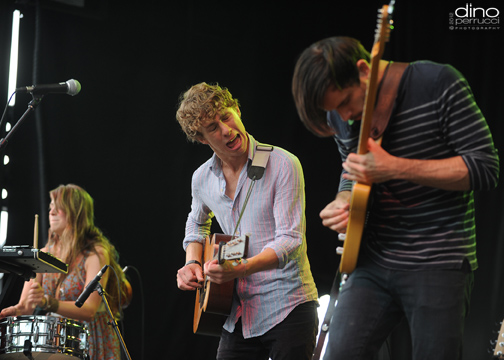 [All photos courtesy of Dino Perrucci Photography]
We have been fans of the feel-good rock of Givers ever since we spent a balmy summer afternoon with them at the Backyard Brunch Sessions last year.  Nearly a full year later, they have seen their star continue to rise, playing large venues in NYC and elsewhere and finding favor with fans of all ages. This year's Mountain Jam made the wise move of adding them to the roster, as Givers gave the proceedings a younger, more musically diverse flavor while still complementing the other acts on the bill. Unlike the stripped-down BBS show, this performance represented the band's more typical stage setup, with fully electric guitars and a full drum kit for drummer/vocalist Tiffany Lamson. I was again impressed by the interplay between the smoky-voiced Lamson and the more youthful, sweet tones of Taylor Gaurisco. Unsurprisingly for a festival set, this hit all of the highlights of the band's debut album In Light, including the hits "In My Eyes," "Meantime" and the set closer "Up Up Up". We also enjoyed rocking out to the band's sequence of Talking Heads covers, when they segued from "Girlfriend Is Better" into "This Must Be the Place" and on into "Sugar On My Tongue".
I recorded this set in the same manner as the Ben Folds Five recording, with AKG 414 microphones set to "wide cardiod" mode. After some editing, the sound is good, albeit with a few spots of PA distortion early in the set. Enjoy!
Stream "In My Eyes"
Audio clip: Adobe Flash Player (version 9 or above) is required to play this audio clip. Download the latest version here. You also need to have JavaScript enabled in your browser.
Stream "Girlfriend Is Better [Talking Heads]"

Audio clip: Adobe Flash Player (version 9 or above) is required to play this audio clip. Download the latest version here. You also need to have JavaScript enabled in your browser.
This recording is now available for download in FLAC or MP3 at Archive.org [HERE].
Follow acidjack on twitter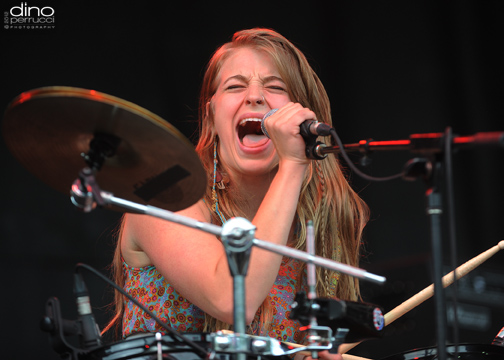 Givers
2012-06-02
Mountain Jam
Hunter, NY USA
Exclusive download hosted at nyctaper.com
Recorded and produced by acidjack
AKG C 414 B-XLS (wide cardiod, 11ft, A-B)>Aerco MP-2>Edirol R-44 [OCM]>Izotope Ozone 5 (EQ, imaging)>Audacity (set fades, tracking, amplify and balance, downsample)>FLAC ( level 8 )
Tracks
01 Saw You First
02 Meantime
03 Ripe
04 In My Eyes
05 Atlantic
06 Girlfriend Is Better >
07 This Must Be The Place (Naive Melody) [Talking Heads]>
08 Sugar On My Tongue [Talking Heads]
09 Ceiling Of Plankton [Talking Heads]
10 Up Up Up
If you download this recording from NYCTaper, we expect that you will PLEASE SUPPORT Givers, like them on Facebook, and purchase In Light from iTunes or your favorite retailer.