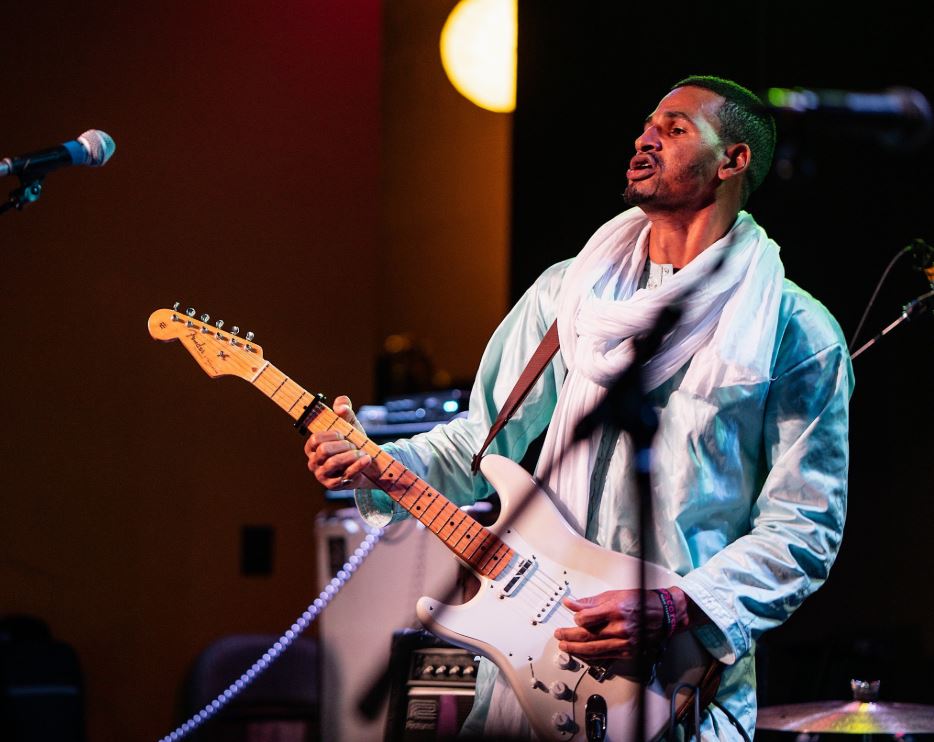 On the final night of the Hopscotch Music Festival, our buds at Kings curated an eclectic show that featured two recordings we have already shared (Moon Duo and Boogarins), a superb set from "house" band Birds of Avalon, Kid Millions, and another very special international guest, Mdou Moctar. Hailing from a small village in Niger, Moctar has received international acclaim as one of the best-known Tuareg guitarists. If you're not familiar with the Saharan brand of rock music, or you have no idea what that means, let me put it more simply: this guy shreds like Jimi Hendrix. His latest LP, Ilana, the Creator was recorded in Detroit, and is already making its way onto early "best of 2019" lists for obvious reasons. Moctar's work is special not only for its technical virtuosity but for his willingness to expand upon the genre's conventions, as well as focus on original music over standards and covers. These four songs will give you a taste of what Moctar is about, but really, do yourself a favor and head to Sahel Sounds to get educated not only about his work, but the variety of 21st century African artists they represent. (Jesse Jarnow wrote an excellent piece about the label here). And keep your eye on those "best of 2019" lists — I know Mdou Moctar is making mine.
I recorded this set with onstage Schoeps MK5 microphones, MBHO microphones back at the soundboard, and a soundboard feed. The sound is excellent. Enjoy!
Thanks to Mdou Moctar and his management team for letting us share the recording.
Download the complete show: [FLAC/ALAC/MP3]
Mdou Moctar
2019-09-07
Hopscotch Music Festival
Kings
Raleigh, NC USA
Recorded and produced by acidjack
Soundboard + Schoeps MK5c (onstage, XY)>KC5>CMC6 + MBHO MBP603a/KA200N (at SBD, PAS)>Aerco MP-2>>Sound Devices MixPre6>24/48 polyWAV>Adobe Audition CC>Izotope Ozone 5>Audacity 2.3.0>FLAC ( level 8 )
01 Iblis Amghar
02 [tuning]
03 Ilana
04 Afrique Victime
05 Tarhatazed
PLEASE SUPPORT Mdou Moctar – buy Ilana, the Creator from Sahel Sounds