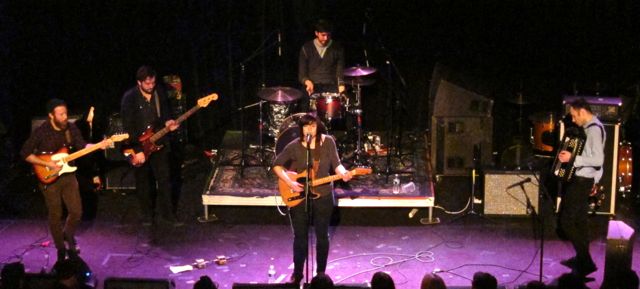 [Photos by acidjack]
Laura Stevenson & the Cans do not have much in common with their Don Giovanni Records labelmates stylistically – the label skews, with bands like The Screaming Females, a heck of a lot noisier.  But their performance this night at Music Hall of Williamsburg – in between the Screaming Females and gritty punk outfit For Science – was, like the Females' (posted here), one of uncompromising quality.  It should be noted that Stevenson is not without her punk credentials, either.  Prior to going out on her own with the Cans, she was best known as keyboardist for the Long Island punk collective Bomb the Music Industry!, who will be her tourmates for the next few months along with the Felice Brothers, Screaming Females, and others.  Her band's own music is more of the confessional, folk-influenced  singer-songwriter variety, and Stevenson executes her vision with a clarity and poise the reminds me of many of the things that have impressed us about other rising songwriters like Sharon Van Etten.  Along with songs from her first two records, including last year's Sit Resist, Stevenson played several new numbers that portend a strong third album in her future.  Playing before a weekend punk crowd is hardly an easy task for any musician, but Stevenson did a fairly easy job of winning this crowd over.  At age 27, it might not be accurate to say Stevenson is a punk who has "grown up" – but perhaps it's fair to say hers is grown-up music that punks can appreciate.
We recorded this set in the same manner as the Screaming Females recording, and it is a similarly nicely-balanced recording.  Enjoy!
Stream "[new song]"
[audio:http://www.nyctaper.com/L1102LauraStevenson0212/newsong.mp3]
Stream "8:08"
[audio:http://www.nyctaper.com/L1102LauraStevenson0212/808.mp3]
Direct download of complete show in MP3 files [HERE] | Direct Download location of the FLAC files [HERE]
Note: All of the material on this site is offered with artist permission, free to fans, at our expense. The only thing we ask is that you download the material directly from this site, rather than re-posting the direct links or the files on other sites without our permission. Please respect our request.
Laura Stevenson & the Cans
2012-02-11
Music Hall of Williamsburg
Brooklyn, NY USA
Exclusive download hosted at nyctaper.com
Recorded and produced by acidjack and nyctaper
Neumann KM150>Sound Devices USBPre2 + Schoeps MK22>KCY>littlebox >> Edirol R-44 [Oade Concert Mod]>2x24bit/48kHz WAV>Audacity (mixdown, EQ, amplify and balance, tracking, downsample, set fades)>FLAC ( level 8 )
Tracks
01 The Healthy One
02 8:08
03 Halloween Pts. 1 & 2
04 [new]
05 Caretaker
06 Peachy
07 [banter]
08 [new]
09 [new]
10 A Shine To It
11 Master of Art
If you enjoyed this recording, PLEASE SUPPORT Laura Stevenson & the Cans, visit their website, and purchase Sit Resist from Don Giovanni Records [HERE]