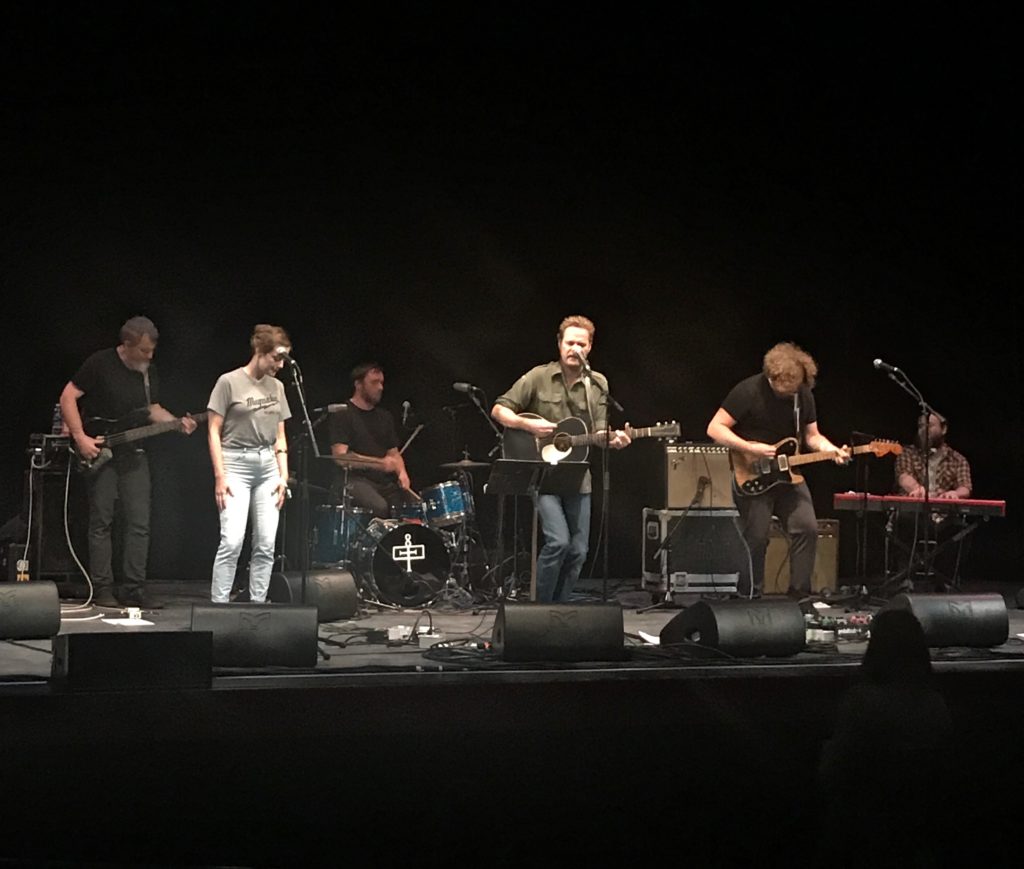 After attending one of the four 2014 Jason Molina tributes put on by his former bandmates and special guests, I wasn't sure whether the tradition would continue. Thankfully, many of those same former Magnolia Electric Co. bandmates (as well as Mike Taylor of Hiss Golden Messenger) were on hand for this extremely special evening at Hopscotch Music Festival (you can see the full lineup of people below). It's not possible to replicate what Molina had, that injured moan of a voice with such depth behind it, but as these folks have proven, it is possible for his indelible songwriting to live on through others. Molina was much more than a performer or songwriter; he was a poet of the human condition and a penetrating chronicler of his own struggles.
Though a different vibe than the intimate Hideout in Chicago, this set established its own tension between celebration and mourning. Each musician onstage was connected with Molina in some way, and the set spanned several of Molina's projects, from Songs: Ohia and Magnolia Electric Co. to his solo work. No matter what flavor or style of Molina's work you enjoyed most, there was something for you, from the countrified "Old Black Hen" and "Hope Dies Last" to more rocking numbers like "Hot Black Silk" and the "The Dark Don't Hide It." But as is so often the case for me personally, it was the two closing songs from 2003's landmark Magnolia Electric Co. that got to me most — the impeccable, powerful statement of endurance and resurrection that is "Farewell Transmission," followed by the elegiac "Hold On Magnolia," an anticipation of an eventual end, abetted by its desperate plea to hold on a bit longer. Molina's music is eternal, whether or not it continues to be performed live, but my hope is that it continues to be, by this cast of characters or a similar one. He was a singular presence in music, worthy of paragraphs (and indeed, an excellent bio). But really, his music speaks for itself. So go enjoy it.
I recorded this set with Schoeps MK4V microphones from the floor, together with a soundboard feed. The sound quality is excellent. Enjoy!
Download the complete show from its Live Music Archive page: [MP3] | [FLAC]
Songs: Molina
2017-09-08
Hopscotch Music Festival
Fletcher Opera Theater
Raleigh, NC USA
Recorded and produced by acidjack for nyctaper.com
Schoeps MK4V (LOC, PAS)>KCY>Z-PFA + Soundboard>>Zoom F8 (24/48 WAV files)>Adobe Audition CC (align, mix down, compression)>Izotope Ozone 5 (EQ, effects)>Audacity 2.0.3 (track, amplify, balance, downsample, dither)>FLAC ( level 8 )
Tracks [Total Time 1:37:54]
01 Whip-Poor-Will
02 Hammer Down
03 Just Be Simple
04 Old Black Hen
05 O! Grace
06 North Star
07 Cross the Road
08 [banter1]
09 Leave the City
10 Alone With the Owl
11 Hard to Love A Man
12 Shenandoah
13 What Comes After the Blues
14 Hope Dies Last
15 31 Seasons In the Minor Leagues
16 Northstar Blues
17 The Dark Don't Hide It
18 Two Blue Lights
19 Hot Black Silk
20 Lioness
21 [banter2]
22 Farewell Transmission
23 Hold On Magnolia
Band:
Wallace Cochran – vocals
Jason Evans Groth – guitar and vocals
Skylar Gudasz – vocals
Michael Kapinus – keyboard and vocals
Joseph O'Connell – guitar, bass, vocals
Mark Rice – drums and vocals
Pete Schreiner – bass, guitar, vocals
MC Taylor – vocals and guitar
Casey Toll – bass
If you enjoyed this recording, you ought to purchase the music by many of these fine musicians, including Songs: Ohia, Magnolia Electric Co., Hiss Golden Messenger.