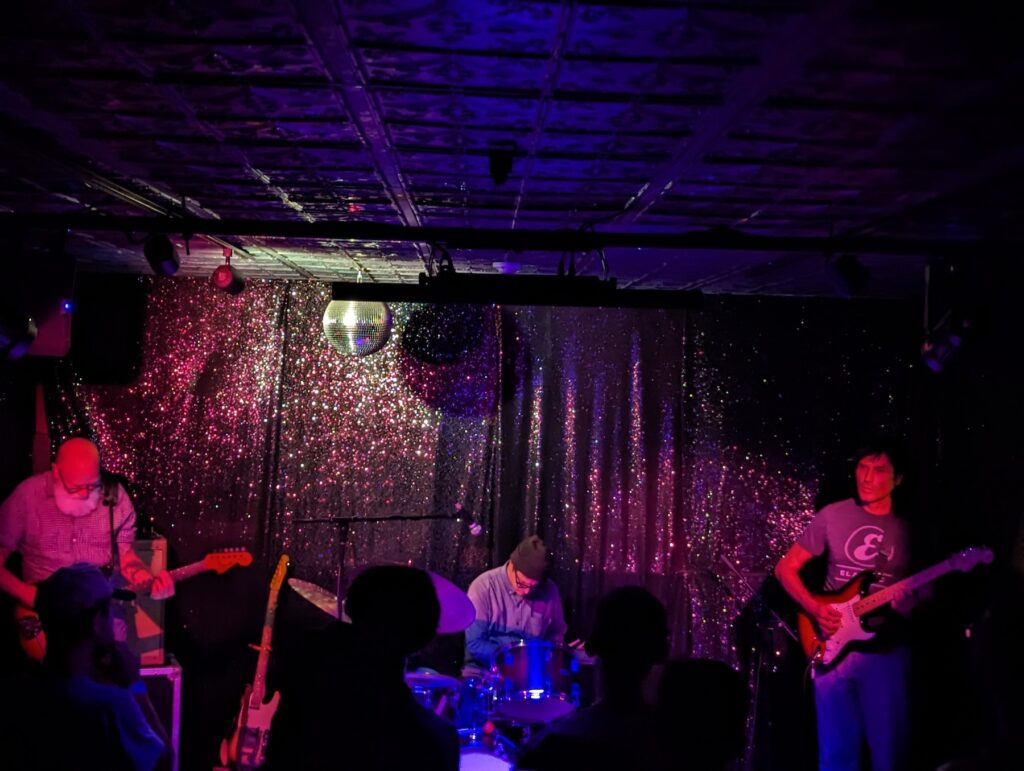 Since the late 90's Chicago's music scene has been a constant source of excitement for me. It seems like every year some new gem comes out of the city's endless pool of independent, creative, and adventurous musicians and labels. Old favorites like Tortoise, and their label, Thrill Jockey, continue to push boundaries while new favorites like International Anthem and Glyders demand my attention. 
Black Duck is a trio of Douglas McCombs, Charles Rumback, and Bill MacKay; all veterans of Chicago's fertile improv scene. Their self-titled Thrill Jockey debut has its roots in their collective improvisation experience with the bulk of the material being created in the studio. The Tubby's faithful were lucky enough to be given does of both improv and arranged material. 
The set started with one of two fully improvised pieces allowing the band to find their footing before moving into "The Trees Are Dancing" giving us a chance to hear a live treatment of the recorded material. It's always interesting to see how musicians approach established songs that are rooted in improvisation. In Black Duck's case, all the album material was stretched out. The evening ended with a nearly ten-minute version "Lemon Treasure" before heading into another impro piece based loosely on the album track "Light's New Measure".
I recorded this from my usual spot by the soundboard with the MBHO's. The low end was a touch boomy early on, but things settled in rather nicely and I'm very happy with the quality. Enjoy! 
Black Duck
2023-09-09
Tubby's
Kingston, NY
Source: MBHO440 > SD MixPre 3 > SD (24/48) > Adobe Audition/Izotope 9 > Audacity FLAC (lvl 8) > Mp3Tag
Recorded and produced by Kliked
1: Improvisation #1
2: The Trees Are Dancing
3: Improvisation #2
4: Of The Lit Backyards
5: Delivery
6: Lemon Treasure
7: Improvisation #3
Black Duck is:
Douglas McCombs – Guitar/Bass
Charles Rhumback – Drums
Bill MacKay – Guitar
Support this excellent artist!
https://blackduck.bandcamp.com/album/black-duck
Support the venues bringing you interesting music!
https://www.tubbyskingston.com/music-calendar