Follow @acidjacknyc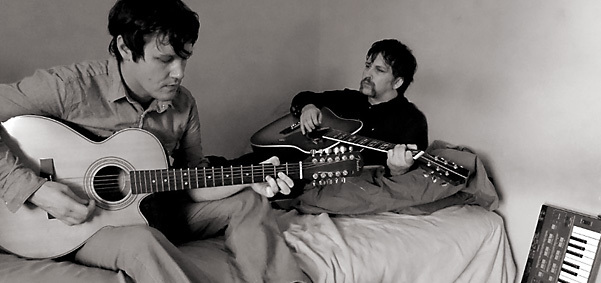 [Promotional photo from Drag City website]
New Bums represents a new singer-songwriter oriented project from Ben "Six Organs of Admittance" Chasny and Donovan Quinn of Skygreen Leopards. The duo, touring their Drag City release Voices In A Rented Room, shared songs from that intimate, Americana-tinged song cycle with us at Baby's All Right a few weeks ago to a fervent crowd of admirers. Anyone familiar with these players knows to expect nothing less than excellence, and that's very much what they delivered. These low-key compositions don't aspire to the same kind of nirvana as Chasny and Quinn's more experimental main projects, but they're nonetheless satisfying, especially as the pair's voices and playing styles complement each other. The Baby's space — intimate but not shabby — proved the perfect place to hear these songs live. Now head back to your bedroom or another quiet place and put on the headphones. You'll see what I mean.
This set was recorded by Devin Foley 0n the house digital multitrack recorder, which I mixed down and edited. The sound quality is outstanding. Enjoy!
Stream "Welcome To the Navy"

Download the complete show: [MP3]  | [FLAC]

Note: All of the material on this site is offered with artist permission, free to fans, at our expense. The only thing we ask is that you download the material directly from this site, rather than re-posting the direct links or the files on other sites without our permission. Please respect our request.
New Bums
2014-03-23
Baby's All Right
Brooklyn, NY USA
Exclusive download hosted at nyctaper.com
Recorded and produced by acidjack
Digital multitrack 24bit/48kHz WAV files (engineer: Devin Foley)>Adobe Audition CS 5.5 (mix down, adjustments, fades, compression)>Izotope Ozone 5 (EQ, effects)>Audacity 2.0.3 (tracking, amplify, balance, downsample, dither)>FLAC ( level 8 )
Tracks
01 The Killers and Me (fades in)
02 Pigeon Town
03 Welcome to the Navy
04 Sometimes You Crash
05 It's the Way
06 Town on the Water
07 Your Bullshit
08 Shadow on the Stone [Donovan Quinn]
09 Cool Daughter
10 Words for Two
11 Burned
If you enjoyed this recording, PLEASE SUPPORT New Bums, visit their website, and purchase Voices In A Rented Room from Drag City.