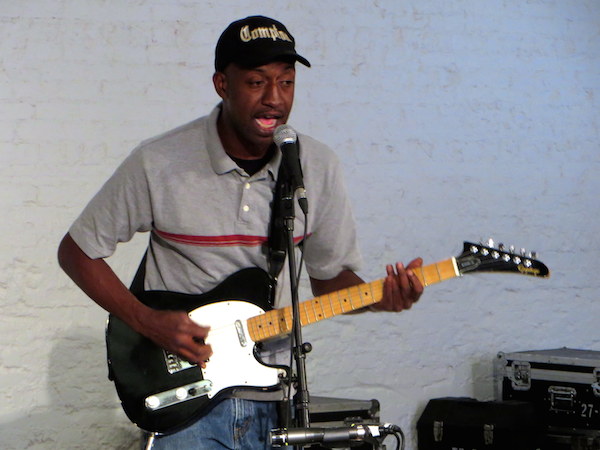 [Photos by Rumbleseat]
David Schwentker reports:
Lamont 'Bim' Thomas has kept time in plenty of great bands over the past 20-plus years (Bassholes, This Moment In Black History, Puffy Areolas, etc.), but in the past few years he's hit a real stride as a guitarist and frontman, releasing a string of albums that continue to increase in both quality and quantity, under the name Obnox. Having played a headlining show on the festival's Friday night last year, and set to play another one the night of this show as 1/3 of the supergroup Blaxxx, the festival saw fit to go ahead and book Obnox to play their official day party. The setting for this year's party was the Contemporary Art Museum, a sterile, wide open space that can be an odd venue for a garage punk show, especially with 4:00 pm afternoon sunlight streaming in through the building's expansive windows. While perhaps a little bemused by the setting and time of day, Thomas blazed through a tight nine song set, accompanied on drums by the "best bandmate he's ever had," the powerful Roseanna Safos. While Obnox has released three full length albums this year on the 12XU and Ever/Never labels, most of this set is drawn from the band's earlier singles and first LP, including covers of Don Howland (Thomas' bandmate in the Bassholes) and Andre Williams songs. A slight bummer if you were looking forward to hearing the newer songs in a live setting, but not a lasting one, as these songs are catchy and rockin', and if you can't have fun at an Obnox show, then I can't help you. Plus, this recording makes a nice compliment to the Obnox show at the Cake Shop in NYC, posted on this site earlier this year, as the sets only share two common songs.
This recording was captured by area taper Rumbleset, with the same setup as the Moon Duo recording previously posted on this site: two sets of mics, Church Audio CA-11s on the ceiling and Shure SM-57s on stage, combined with a soundboard feed. The sound quality is outstanding. Enjoy!
Obnox returns to NYC on November 6 for a show at Pianos. Tickets are available here.
Download the complete show: [MP3] | [FLAC]
Stream the complete show:

Obnox
2015-09-12
Hopscotch Music Festival Day Party
CAM
Raleigh, NC USA
Three separate audio sources were used to create this recording:
1) Church Audio CA-11 (cardioid) stereo microphones mounted on the ceiling > Naiant Studio PFA phantom power adapter.
2) Direct line-level stereo board feed. (Technician was Roger Dennis, RMB Audio)
3) Stereo pair of Shure SM-57 microphones at 90 degrees, diaphragms about 10 inches apart, on a stand at the front of the stage.
These three sources were captured with a Tascam DR-680 MKII recorder as 48 kHz, 24 bit wave files.
The files were mixed and processed with Audacity and Magix Audio Cleaning Lab
Taped and mixed by Rumbleseat
Tracks [30:52]
01. Rock N Roll Babylon
02. Bitch! Get Money!
03. [banter]
04. Jack N Jill [Don Howland]
05. Without Aa Soul
06. Dr. Dank Vs. Dr. Middie
07. [banter]
08. The Get It Inn
09. I'm Bleeding Now
10. Only Black Man in South Dakota
Support Obnox: Facebook | Buy Wiglet, Know America, and other Obnox records from 12XU