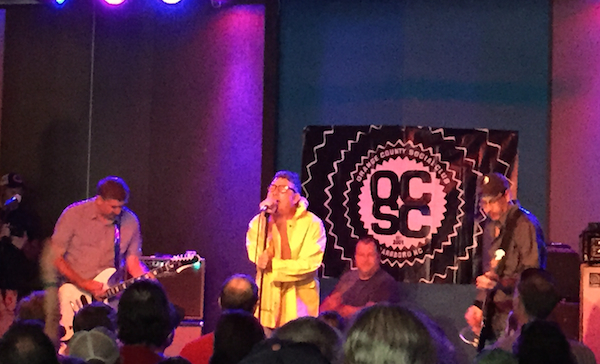 Our friend and fellow taper, David Schwentker reports:
By Day 3 of Hopscotch, it can be tough to get out and moving after two full days of non-stop rockin' and partying. Luckily, the past few years, the Orange County Social Club day party at Kings has offered a good kick start to the festival's final day. This year might have been their finest party yet, where local, younger punks Natural Causes and Flesh Wounds set the stage for a great set from their forefathers, Pipe. Plenty of bands from the Triangle scene of the 1990's gained more traction outside the region, but locally, Pipe was one of the most beloved bands around. After disbanding in the late '90's, the band was basically gone for 10 years, outside of a one-off show with the original line-up in 2004. Luckily for us, after playing the Merge XX festival in 2009, the band has remained active, playing shows in fits, writing new songs, and continuing to show everyone how fun punk rock should be. Recording for a new Pipe album began in earnest last year, and if we're lucky, someday it will be available for purchase. Until then, this set, with a mix of 20+ year old classics and unreleased new songs, will have to suffice. Crank it up and imagine the cups and cans flying though the air, just try not to get beer on the cymbals.
This set was recorded by Eric PH with the mics clamped to a ledge behind the soundboard, combined with a feed from Kings FOH Justin. The results are outstanding.
Download the complete show: [MP3] | [FLAC]
Stream the complete show:

Pipe
2015-09-12
Orange County Social Club Day Show
Hopscotch Music Festival
Kings
Raleigh, NC
Exclusive download hosted at nyctaper.com
Recorded and produced by Eric PH
Soundboard (engineer: Justin) + AKG C480B/CK63 (PAS) > Roland R-26 > 2xWAV (24/48) > Adobe Audition CC (align, balance, mixdown, normalize, fades) > Izotope Ozone 5 (EQ) > Audacity 2.0.5 (downsample, dither, tracking, tagging) > FLAC (16/44.1, level 8)
Tracks [32:03]
01. [Intro]
02. Human Gutterball
03. Biscuits
04. Bender
05. Backstroke
06. Kirk's Floor
07. Submariner
08. Good Foul
09. Suckin' Rocks
10. Puck Man
11. Chula
12. Little Black Lies
Support Pipe: Keep up with the band on their Facebook page, buy their music from Merge, or buy the first two LPs from Demonbeach Records.