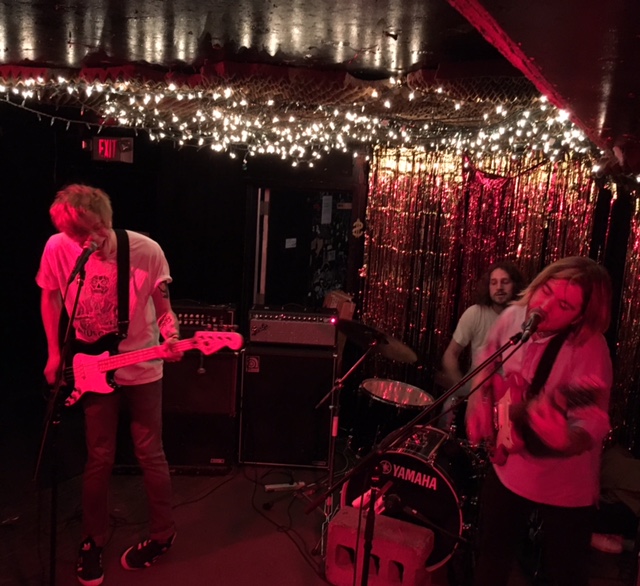 We couldn't have been happier to kick off this year's NYCTaper Unofficial CMJ Show at Cake Shop with the band WOMPS. As any CMJ veteran knows, this quasi-festival can be a bit of a slog — tons of shows played at venues all over town in a compressed amount of time, often for no pay. Add to that that you've come all the way from Scotland to do it, and well, that's not a recipe for a good attitude or a good performance. What a delight, then, that straight off the bat these young guys brought great songcraft and the party spirit to launch this day show. You probably haven't heard of this band, as they've just a seven-inch to their name currently, but big things are expected: Right now, they're considering offers from several labels for their already-recorded debut, for which no less than Steve Albini was behind the boards. It's not hard to see why, as they've got an approachable garage-rock sound that wears its angst well. The highlight of the set for me was "Dreams on Demand," with its tuneful hook and classic 90s sound (you can easily imagine on the radio on KROQ or the like back in those days). In their short career, they've shared stages with the likes of METZ, Cloud Nothings and UK breakouts Royal Blood, and the good folks over at NME are already on the case. So, WOMPS may not be a household word in the U.S. just yet, but get a taste now before we say we told you so.
I recorded this set with Schoeps MK4V microphones at the front of the stage, combined with a soundboard feed of mostly vocals from Cake Shop engineer Jeff. The sound quality is not quite what I'm sure Steve Albini has done on their debut, but it's still great. Enjoy!
Download the complete show: [MP3/FLAC]
Stream the show [Note: "Live A Little Less" is not included as the track was partially cut]

WOMPS
2015-10-15
NYCTaper Unofficial CMJ Show
Cake Shop
New York, NY USA
Exclusive download hosted at nyctaper.com
Recorded and produced by acidjack
Schoeps MK4V (onstage)>KC5>CMC6 + Soundboard (engineer: Jeff)>>Edirol R-44>2x24bit/48kHz WAV>Adobe Audition CS 5.5 (align, mix down, fades, compression)>Izotope Ozone 5 (effects, EQ, image)>Audacity 2.0.5 (track, amplify, balance, downsample, dither)>FLAC ( level 8 )
Tracks [Total Time 23:00]
01 Live A Little Less [fades in]
02 Ritalin
03 Cancer of the Bone
04 Another Cell
05 Plasticine
06 Dreams On Demand
07 Three Cheers
If you enjoyed this recording, PLEASE SUPPORT WOMPS, visit their website, and buy their 7″ here.