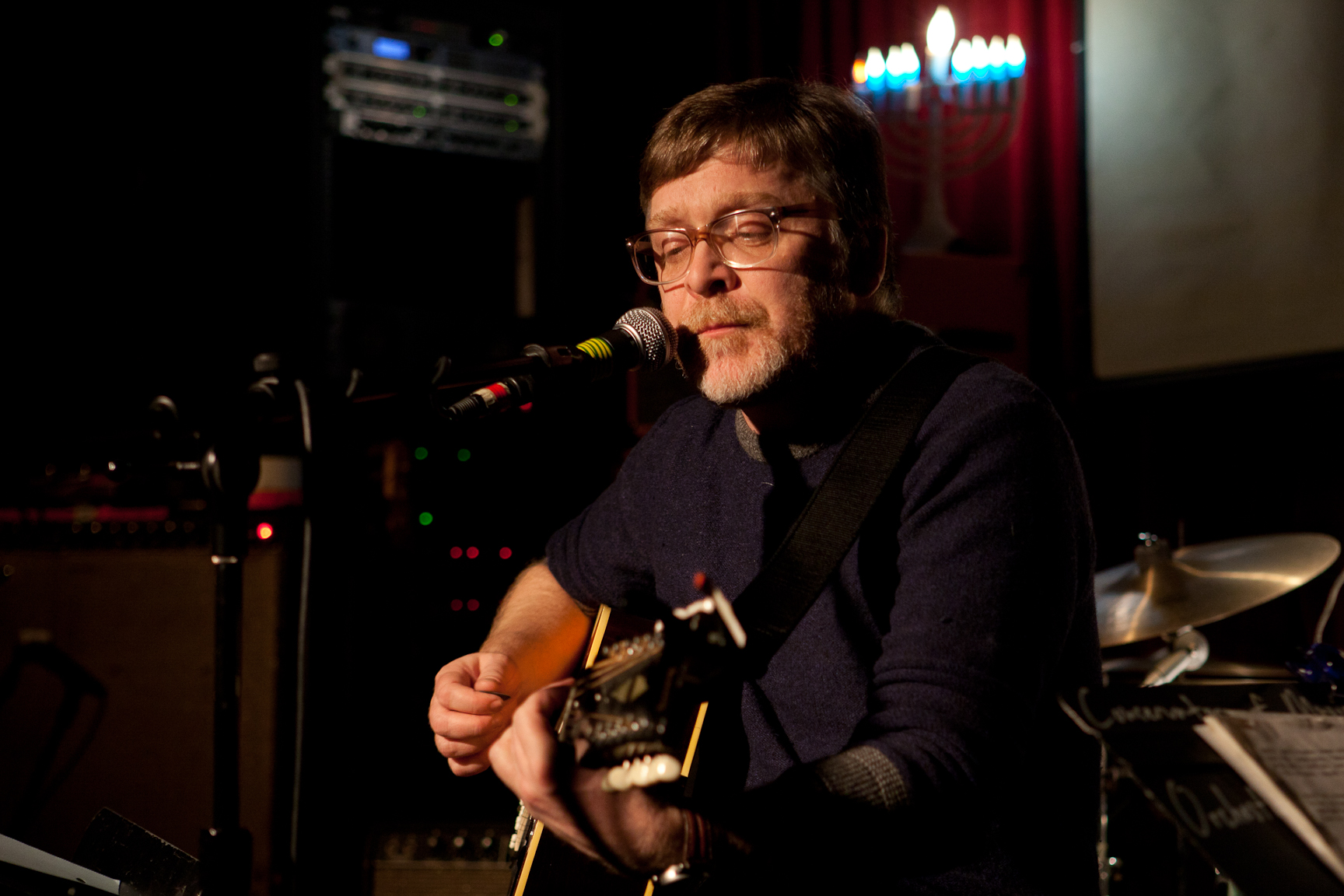 [Photo courtesy of Bleary Eyed Brooklyn]
Teenage Fanclub is one of those "90s bands" that has taken on a more mythical quality in its comeback years than what it enjoyed during the first part of their career. Try finding classic records like Grand Prix on vinyl and you'll discover that interest in this band hasn't waned at all. Norman Blake, the band's frontman and one of its founders, was a huge part of this, contributing delicate, nuanced songwriting and classic pop sensibility to the Scottish act's sound. At the peak of their popularity in the 90s, Teenage Fanclub took an up-and-coming American act, Yo La Tengo, on tour with them. The friendship and mutual respect have remained ever since.
That made Blake a natural choice for the opening act of the final Hanukkah show at Maxwell's; his presence was literally a visit from an old friend for Yo La Tengo, and it felt that way for the rest of us. Playing both Fanclub songs and songs from his other project, Jonny ("You Was Me", streaming above, is a Jonny number), Blake was laid-back and unworried and delightfully shambolic; he didn't hesitate to mention mid-song when he flubbed a solo or messed up a tuning. But this wasn't the kind of show where anyone cared; in the 150-capacity confines of Maxwell's, this solo acoustic set felt like hanging out with Blake in a family basement. He went on to join YLT for the bulk of their set as well, making this a fine night for Norman Blake, and for us.
I recorded this set primarily with a soundboard feed provided by Carson Kopp, the long-time engineer of Maxwell's, with Schoeps MK5 microphones providing a bit of additional ambiance.  The sound quality is excellent. Enjoy!
Direct download of the complete shows: [MP3] | [FLAC]
If the FLAC link is no longer working, email nyctaper for the FLAC files
Follow acidjack on twitter
Note: All of the material on this site is offered with artist permission, free to fans, at our expense. The only thing we ask is that you download the material directly from this site, rather than re-posting the direct links or the files on other sites without our permission. Please respect our request.
Norman Blake
2012-12-15
Maxwell's
Hoboken, NJ USA
Exclusive download hosted at nyctaper.com
Recorded and produced by acidjack
Soundboard + Schoeps MK5c>CMC6>Sound Devices USBPre2>>Edirol R-44 [OCM]>2x24bit/48kHz WAV>Adobe Audition CS 5.5 (mix down, adjust levels)>Izotope Ozone 5 (EQ, exciter)>Audacity (set fades, tracking, amplify, light DR compression, balance, downsample)>FLAC ( level 8 )
Tracks
01 It's All In My Mind
02 Dark and Lonely Night
03 I Don't Want Control of You
04 You Was Me
05 [banter1]
06 Did I Say
07 [banter2]
08 When I Still Have Thee
09 [banter3]
10 Start Again
11 [banter4]
12 Everything Flows
13 [banter5]
14 He'd Be A Diamond
If you enjoyed this recording, PLEASE SUPPORT Norman Blake, visit Teenage Fanclub's website, and buy their recent releases from Merge Records [HERE]