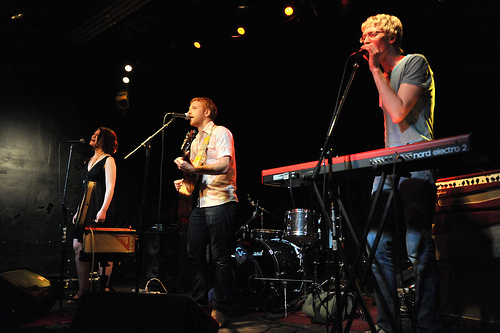 [Dinosaur Feathers at Public Assembly in 2009]
[Photos courtesy of Jessi Bautista]
Brooklyn's own Dinosaur Feathers celebrated the release of their excellent new album Fantasy Memorial before a more eclectic crowd than usual when they played at The Studio at Webster Hall on a Friday night while the venue was also hosting Neon Indian's DJ set upstairs, as well as its usual Friday night B&T revelers. The band rewarded both dedicated fans and casual passers-through with a solid run-through of almost every song on Fantasy Memorial as well as "Parallel July" from their Early Morning Risers EP. With a sound that defies categorization (is it surf-pop? Is it rock-a cappella?), and is also eminently catchy, the Feathers seem poised to capture the hearts of the college crowd (if there is a band that looks happier on stage than Dinosaur Feathers, I haven't seen it) as well as the interest of the indie intelligentsia. We look forward to continuing to follow the development of this exciting young band.
I recorded this set up front in the room, near the right speaker stack, with high-end DPA mobile microphones. This recording gives you a realistic experience of "being there," but as with any recording made in the crowd, it does contain more chatter than some nyctaper recordings. Give the sample a listen, and enjoy!
Direct download of MP3 files (HERE). Listen to "Teenage Whore" (HERE)

Download the Complete show in FLAC [HERE].
Dinosaur Feathers
2010-03-05
Studio at Webster Hall
New York, NY
An acidjack master recording
Recorded and produced by acidjack for nyctaper.com
Equipment: DPA 4061 (Coresound HEB)>Sony PCM-M10 (24bit/44.1kHz)
Position: FOB, about 10? from right stack
Mastering: 24bit/44.1kHz WAV>Audacity (set fades, tracking, amplify each channel, light compression of crowd noise, smooth peaks)>FLAC ( level 8 )
Tracks
01 Intro
02 I Ni Sogoma
03 Crossing the Cannon
04 Know Your Own Strength
05 Family Waves
06 Sleeping In
07 Teenage Whore
08 crowd/banter
09 History Lessons
10 Vendela Vida
11 crowd/banter
12 Fantasy Memorial
13 Parallel July
If you email nyctaper for access to this recording, we expect that you will PLEASE SUPPORT Dinosaur Feathers, visit their web page, and purchase the excellent "Fantasy Memorial" here.