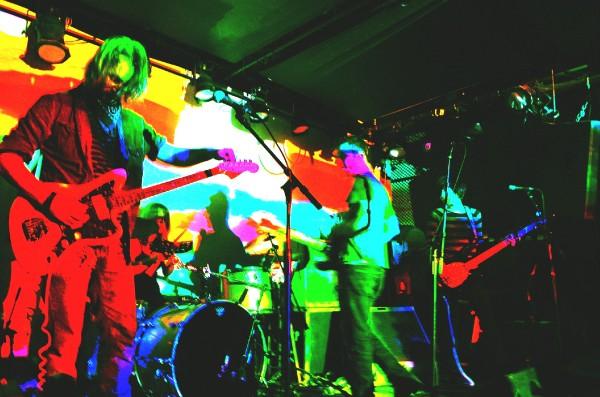 [Photo courtesy of Chris Becker for greenshoelace.com]
Although I had just caught them earlier in the month at Littlefield, my second Vandelles experience was no less entertaining.   Well-slotted in the coveted "second to last" position on an excellent five-act roster,  the band ripped through a similar set to the Littlefield show.  This set seemed a bit tighter than that one, and fortunately, the Vandelles avoided the fate of the act that followed them, MiniBoone, who shorted out most of the electrical equipment onstage and ended up playing an impromptu semi-acoustic freeform set.
I recorded this set way upfront with the miniature DPA microphones mounted to my hat.  The sound is excellent and there is almost no crowd chatter.  Enjoy!
The Vandelles play Cameo Gallery and Lit Lounge on March 26 and 27, respectively.  Check them out!
Direct download of MP3 files (HERE)
Download the Complete show in FLAC [HERE].
The Vandelles
2010-02-26
Cake Shop
New York, NY  USA
An acidjack master recording
Recorded and produced by acidjack for nyctaper
Equipment: DPA 4061>Sony PCM-M10 (24/44.1)
Position: FOB, DFC, about 5? from stage, HRTF
Mastering: 24bit/44.1kHz WAV>Audacity (set fades, tracking, downsample, amplify channels)>FLAC level 8
Tracks:
01 Intro
02 Get Down
03
04 Bomb the Surf
05
06 Dash N Dive
07 California Killer
08
09 Bad Volcano
If you email nyctaper for access to this recording, we expect that you will PLEASE SUPPORT The Vandelles, visit their website, visit their MySpace page, and purchase their official releases directly from the SVC Records [here].