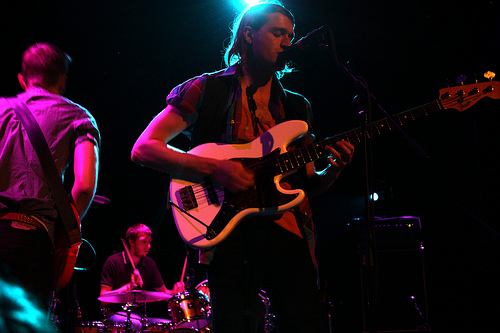 [Photo courtesy of Taylor Long / T-Sides.com]
Leeds-based Wild Beasts closed out their highly successful U.S. tour (and 2-night NYC run) with a sold-out performance at Music Hall of Williamsburg.   The band's second album, Two Dancers, has been earning critical raves and increased notice from fans over the past year, and this tour represented the culmination of Wild Beasts' efforts to break out stateside.   Although the band garnered a lot of initial attention for lead vocalist/guitarist Hayden Thorpe's theatrical, otherworldly falsetto, these live shows accentuate the fact that bassist/vocalist Tom Fleming's more rounded tenor is also key, providing the perfect compliment to Thorpe.  Wild Beasts make challenging music – with poetic, melodramatic lyrics and displays of vocal histrionics that could rival almost anyone in the rock pantheon, quick and dirty chillwave this music is not.  But like nyctaper favorites The Dirty Projectors, the Beasts' live show rewards the listeners who do "get it."  Although they did mention being shot at in Detroit(!), the Beasts clearly felt that this tour, and even this NYC run, won them a lot of converts.  Their tour schedule has moved on to the UK and Europe for the time being, but if this show was any indication, New York will gladly welcome them back on the next run.
I recorded this set using a four microphone rig from the usual spot in this venue.   The sound is excellent, with extra clarity and detail added through the use of hypercardiod microphones.   Thanks to the Wild Beasts organization for permitting this recording, and for their mastering suggestions.  Enjoy!
Direct download of MP3 files (HERE.
Download the Complete Show in FLAC [HERE].
Wild Beasts
2010-02-28
Music Hall of Williamsburg
Brooklyn, NY USA
An acidjack master recording
Recorded and produced by acidjack for nyctaper.com
Equipment: DPA 4021 + Beyerdynamic MC950>Edirol R-44 (24/44.1)
Position: Clamp to left side of SBD cage, mics at 8? (cardiods DIN/hypers pointed at stacks)
Mastering: 2×24bit/44.1kHz WAV>Audacity (mixdown, smooth peaks, EQ, slight compression, adjust channels, set fades, tracking, normalize to 0dB)>FLAC ( level 8 )
Tracks
01 Intro
02 The Fun Powder Plot
03 We Still Got the Taste Dancing On Our Tongues
04 Vigil for a Fuddy Duddy
05 This Is Our Lot
06 Two Dancers
07 His Grinning Skull
08 banter
09 Two Dancers II
10 Please Sir
11 Brave Bulging
12 All the King's Men
13 Hooting and Howling
14
15 The Devil's Crayon
16 Empty Nest
17 Cheerio Chaps, Cheerio Goodbye
If you email nyctaper for access to this recording, we expect that you will PLEASE SUPPORT Wild Beasts, visit their web site, and purchase the excellent Two Dancers and their other releases from Domino Records here.