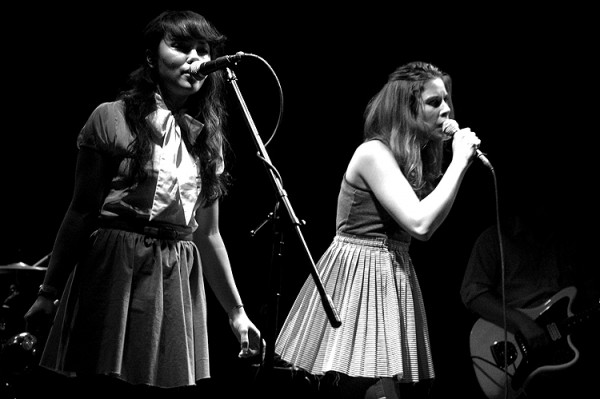 [Photo courtesy of Jonny Leather.  More excellent shots here.]
Heavy rains and the first night of Passover may have deterred some of the Monday night crowd at the Bell House, but those who came out witnessed the critically-acclaimed Philadelphia based dreampop sextet A Sunny Day in Glasgow deliver a stellar set of songs in support of their latest EP, Nitetime Rainbows. While their records, and especially Nitetime Rainbows, have a bit more of an electronic sheen to them, ASDIG's live show is a more organic experience, free from some of the editing room trickery.  Experiencing them as a bit more of a "rock" band (albeit, a still-very-shoegazy one) is a different but completely enjoyable experience from how they are on record.   This includes more of a focus on the vocal harmonies of singers Annie Fredrickson and Jen Goma, which were especially beautiful on the impromptu performance of "Another Diamond Day" by Vashti Bunyan.
I recorded this set with a combination of the DPA 4021 microphones and a stereo soundboard feed, which for this particular show consisted of mostly vocals.  Therefore, what you are hearing is predominantly the mics, with the vocals boosted a bit from the board feed.  The sound is excellent. Enjoy!
Direct download of MP3 files (HERE).

Download the Complete show in FLAC [HERE].
A Sunny Day in Glasgow
2010-03-29
The Bell House
Brooklyn, NY  USA
An acidjack master recording
Recorded and produced by acidjack for nyctaper.com
Equipment: DPA 4021 + stereo soundboard feed>Edirol R-44 (24/44.1)
Position:  Clamp to right side of SBD cage, about 8? from floor, mics pointed at stacks
Mastering: 2×24bit/44.1kHz WAV>Audacity (mixdown, set fades, adjust levels, tracking, amplify each channel)>FLAC ( level 8 )
Tracks (thanks to the commenter below for the setlist fixes)
01 Nitetime Rainbows
02 Shy
03 The White Witch
04 Failure
05 Just Another Diamond Day [Vashti Bunyan]
06 So Bloody, So Tight
07 Passionate Introverts (Dinosaurs)
08 Sign Exhibitionist
09 Ashes Grammar/Ashes Maths
10 banter
11 Things Only I Can See
If you email nyctaper for access to this recording, we expect that you will PLEASE SUPPORT A Sunny Day in Glasgow, visit their website, and purchase Nitetime Rainbows and their other excellent records direct from the band here.