[Ghastly City Sleep. All photos courtesy of Jonny Leather]
Our good friend Jonny Leather has been going above and beyond to give the already-teeming Brooklyn scene access to exciting new music through his semi-regular concert series.  We were fortunate enough to capture this excellent bill, featuring Brooklyn's Ghastly City Sleep, garage rock duo Royal Chains and Austin's Royal Forest (along with Brick + Mortar, whose set we unfortunately missed) at Glasslands, which is a perfect place to absorb yourself in some new music.  Each act was striking in it own way, but perhaps none so much as Ghastly City Sleep, whose music takes a sharp turn from current trends with dark, sometimes lengthy songs that are not afraid to challenge listeners' expectations.  Jonny Leather compares them to Radiohead, and I can see the resemblance in the rhythmic variations,  sharp, angular vocals, and the aforementioned dark overall tone. For a young band, these guys have a fully developed sound that is poised for bigger things. Check out their debut album at Robotic Empire Records and see for yourself.

[Royal Forest]
Royal Forest could be called "The Band Formerly Known As Loxsly", but they probably made the right choice with the wholesale name change to avoid any association with the somewhat weak act by a very similar former name.  Apparently in their former incarnation the band earned a lot of comparisons to Grandaddy, which I still hear echoes of, along with occasional hints of my favorites Polvo.  Currently the band is promoting a self-titled EP, with a full-length on the way.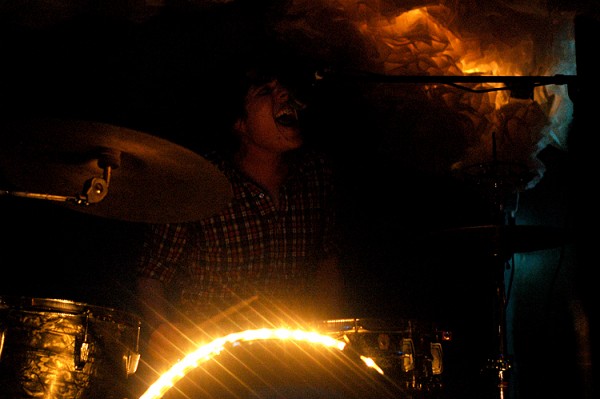 [Royal Chains]
Being a garage-rock duo, Royal Chains needed to do everything right to impress me – and they did.  Too often, I find these setups aren't musical enough (or are just too wasted), or seem to treat the whole thing as a joke.  Royal Chains came out and played their asses off.  With two EPs under their belt, these guys have shown they are serious about songwriting, and they seem determined not to fall into the lame "we're two drunk guys playing half-assed songs" trap at all.  Instead, band members Adam and Dan bring real musicianship and feeling.  And, in a perfect ending, they managed to show they don't take themselves too seriously by playing a cover of Tom Petty's "Won't Back Down."
Please support Jonny Leather and the shows he promotes.  One good way to learn more is to be his friend on Facebook. Thanks to Jonny for inviting us to this excellent show.  It took us a month to get it posted, but I think it will be worth the wait!
I recorded this set from the balcony with the DPA microphones in an "XY" pattern.  The recordings are generally excellent, with a small caveat – during Royal Forest's set, the mics were clamped to the balcony rail, which was vibrating due to a fan clamped to it nearby.  Therefore, during quiet parts of the music, you can hear these vibrations.  The band thought it sounded good despite this flaw, so I think it is still very worth your time.  For listeners' convenience, and to provide maximum exposure to all three bands, the music of all three bands is included in one ZIP file of MP3s.  The MP3s are properly tagged for easy importing into iTunes, including artwork!
Direct download of MP3 files [HERE]
Download the Complete shows in FLAC [GHASTLY CITY SLEEP] / [ROYAL FOREST] / [ROYAL CHAINS]
Ghastly City Sleep
2010-05-03
Glasslands
Brooklyn, NY USA
An acidjack master recording
Recorded and produced by acidjack for nyctaper.com
Equipment: DPA 4021>Naiant littlebox>Sony PCM-M10 (24/44.1)
Position: Clamp to balcony rail, XY
Mastering: 24bit/44.1kHz WAV>Audacity (set fades, EQ, tracking, amplify)>FLAC ( level 8 )
Tracks
01 I Never Left My Head
02 Farewell My Friend
03 [banter]
04 Foreboding Shapes
05 1994 (it's a weird world)
06 Subtle Disaster
Royal Forest
(same source info)
Tracks
1. Civilwarland
2. Battalions
3. Spines Came Unglued
4. Anagrams
5. The Manual That You Wrote
6. Save the Ghost
7. Courtesy in Decline
8. Borrowed Tune (Neil Young)
Royal Chains
(same source info)
Tracks (please help with the setlist)
01
02 Feedback
03 Lucy Takes the Dare
04 [banter]
05
06
07
08
09 Won't Back Down [Tom Petty]
Please support all of these excellent bands by visiting their websites and buying their music and merchandise (or in some cases, downloading it for free), as follows:
Websites/MySpace:
Ghastly City Sleep
Royal Forest
Royal Chains
Records/Merchandise:
Ghastly City Sleep
Royal Forest Bandcamp Site (Free Download)
The Royal Chains (EPs are $5)