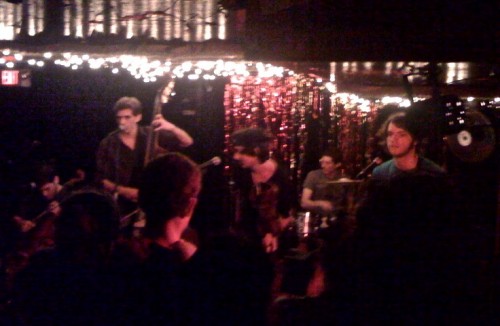 [iPhone photo by acidjack]
As our founder noted in our first post about this band, Miracles of Modern Science have mastered the tough challenge of making original music that stays within the indie rock/pop realm.  The always-excellent booking crew at Cake Shop have recognized that by giving MOMS a monthlong residence, which features them and an excellent, rotating cast of other acts every Thursday night in June.  The band consists of a cello, violin, stand-up bass, mandolin and drums, and it played surprisingly well in what can be a tough room, thanks in part to the virtuosity of the band members on their instruments.  Along with material from their several EPs, the band played two very different covers – first, Wilco's "Jesus, Etc." which you can stream below, and Prince's "I Would Die 4 U".  The crowd was so into it that, in a rare move for a Cake Shop show that had run late into the night, the band played a two-song encore, which included "I Would Die 4 U" and one of the band's oldest songs, "Bossa Supernova".  The band is working on a full-length record at the moment, and based on the quality of these performances, it should be a success.
I recorded this set using a new method which I hope compensates for the challenges of capturing sound at Cake Shop.  Tiny DPA omnidirectional mics were taped at a 3 foot split on the ceiling directly at the stage lip (you can see them in the picture if you look closely) while DPA cardiod microphones were placed about 6 feet back from the right stack.  The result is a capture that provides both the feeling of being in the crowd as well as clean, direct sound from the stage.  The MP3s and FLACs have been tagged for easy importing into iTunes or your favorite music system.  Enjoy!
Stream "Jesus, Etc.":
[audio:http://www.nyctaper.com/M7016MOMS9922/MOMS-JesusEtc.mp3]
Stream the entire show:
[audio:http://www.nyctaper.com/M7016MOMS9922/moms2010-06-17cakeshop_acidjack.mp3]
Direct download of MP3 files (HERE)
Download the Complete show in FLAC [HERE].
Miracles of Modern Science
2010-06-17
Cake Shop
New York, NY  USA
An acidjack master recording
Recorded and produced by acidjack for nyctaper.com
Equipment: DPA 4021+DPA 4061>Edirol R-44 (Oade Concert Mod) (24/44.1)
Position: 4021s 6ft from right stack, A-B; 4061s mounted at 3? split above stage
Mastering: 2×24bit/44.1kHz WAV>Audacity (mixdown, set fades, tracking, amplify/balance channels, downsample to 16bit)>FLAC Level 8
Tracks [Total Time 49:48]
01 MR2
02 TYPO GYGO
03 Friend of the Animals
04 Eating Me Alive
05 Space Chopper
06 Jesus, Etc. [Wilco]
07 I Found Space
08 Luminol
09 [encore break]
10 I Would Die 4 U [Prince]
11 Bossa Supernova
If you download this recording from NYCTaper, we expect that you will PLEASE SUPPORT Miracles of Modern Science, attend their gigs, visit their MySpace page, and download their music from their bandcamp site (free downloads available); their EPs can also be purchased from iTunes.