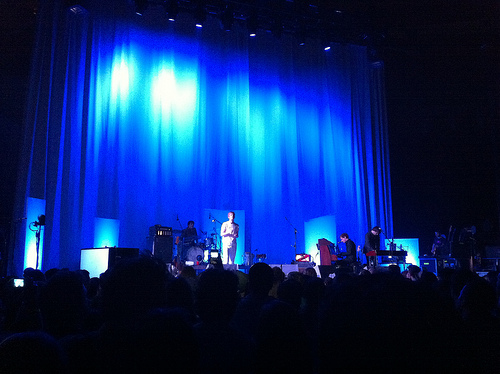 [Photo by Kelly Reeves.  Used by mechanical license.  See Kelly's other photos here]
You know Merge Records must be having a good year when one of its marquee acts, the always-enjoyable Spoon, is only the opening act for another Merge artist (the indomitable Arcade Fire) – and both of them are playing Madison Square Garden.   At the first of two very special MSG shows here in New York, Spoon's labelmates demonstrated their generosity by giving Spoon an almost hourlong set to showcase their timeless brand of rock.  Focusing on their last three records, Spoon proved again that they are one of the most consistent bands in the business, giving a tightly focused set of 15 songs that would qualify for most bands as a headliner's performance.  While the band's relatively stripped-down aesthetic makes playing the arena environment a little tough, Spoon gave fans who didn't know them a worthwhile introduction, and those of us who do a solid performance to tide us over until their next New York appearance at the top of the bill.
I recorded this set with the DPA microphones in a mobile configuration.   Other than some annoying talkers in the first few songs and the obvious limitations of the arena setting (and my seats) sound-wise, the recording is representative of the sound of the night.  Enjoy!
Please note that as Arcade Fire does not have an open taping policy, Arcade Fire's set will not be posted on the site.  Unfortunately, we were also unable to arrive in time to catch the first opener, the multitalented and superb musician Owen Pallett, but you can download our recent recording of him from Webster Hall this April here.
This Recording is now available for Download in FLAC and MP3 and to Stream at Archive.org [HERE].
Spoon
2010-08-04
Madison Square Garden
New York, NY  USA
An acidjack master recording
Equipment: DPA 4021>Denecke PS2>Sony PCM-M10 (24/44.1)
Position: Slightly LOC, floor, about 5 rows behind the SBD
Mastering: 24bit/44.1kHz WAV>Audacity (set fades, EQ, downsample to 16bit, tracking, amplify and balance channels)>FLAC Level 8
Tracks [Total Time 55:47]
01 Me and the Bean
02 Nobody Gets Me Like You
03 The Underdog
04 Stay Don't Go
05 Trouble Comes Running
06 The Ghost of You Lingers
07 Written in Reverse
08 Don't You Evah
09 I Turn My Camera On
10 Don't Make Me A Target
11 I Summon You
12 Jonathan Fisk
13 You Got Yr Cherry Bomb
14 Got Nuffin
15 Black Like Me
If you download this recording from NYCTaper, we expect that you will PLEASE SUPPORT Spoon, visit their website, and purchase their official releases directly from Merge Records here.