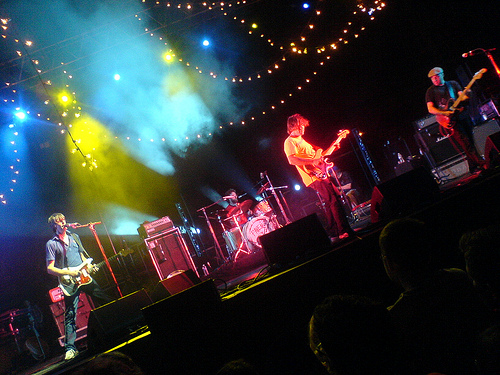 [Photo courtesy of fakebook. See his Flickr stream here]
Pavement returned to New York City after a hiatus of more than 10 years. For those of us who grew up worshipping the band in the 90s, this was a jaw-dropping, tears-streaming moment. There once was a world where, far from all things, but a hell of a lot more things were right, and one of those things was Pavement, avatars of a time when being a "slacker" was a choice rather than an economic reality. Insouciant, wry and at times impenetrable, they were not all things to all people – but they were all things to a certain kind of person, the right kind of person some (particularly a certain vintage of indie snob) might say. Beyond all doubt time has been kind; since I last saw them take the stage in Raleigh, NC in 1999, sloppy as hell and evidently sick of it all, these guys have grown as musicians immensely, as evidenced by the more intricate solos and the swagger with which they dispatched a nearly two hour (!!) set before a crowd that, as I saw it, included a fair number of people who were in elementary school when Terror Twilight closed out their recorded history. Listen to the 7+ minute "Fight This Generation" and see if you agree. Fittingly, the show took place outdoors, facing Manhattan from the teeming Williamsburg Waterfront. Were Pavement a young band today, there is little doubt what side of the East River they would spend their time on.
These songs have worn well – with nearly every song a classic, it is hard to pinpoint highlights. Suffice it to say, for those of us who will be catching the next four shows at Rumsey Playfield in Central Park from Tuesday through Friday, this is going to be a memorable week.
I recorded this set with a mobile rig in the audience very close to the sound source. Although there is occasional wind noise that I have mostly processed out, and the expected excitement of the crowd, the sound is overall extremely clear. Enjoy!
Stream "Fight this Generation":
[audio:http://www.nyctaper.com/P9910Pavement0210/Pavement-FightThisGeneration_nyctaper.mp3]
Stream "Spit on a Stranger":
[audio:http://www.nyctaper.com/P9910Pavement0210/Pavement-SpitOnAStranger_nyctaper.mp3]
Direct download of MP3 files [HERE]
Download the Complete show in FLAC [HERE].
Pavement
2010-09-19
Williamsburg Waterfront
Brooklyn, NY USA
An acidjack master recording
Recorded and produced by acidjack for nyctaper.com
Equipment: Audix 1280c>Church Audio Active Cables>SPSB-10>PCM-M10 (24/44.1)
Position: Mobile, near right stack
Mastering: 24bit/44.1kHz WAV>Audacity (set fades, tracking, hard limit/compress clapping, EQ, amplify and balance, downsample to 16bit)>FLAC (level 8 )
Tracks [Total Time 1:43:59]
01 intro banter
02 Cut Yr Hair
03 Date With Ikea
04 Rattled by the Rush
05 banter
06 Elevate Me Later
07 Grounded
08 Frontwards
09 Shady Lane
10 Unfair
11 Perfume V
12 Fight this Generation
13 Silence Kid
14 Box Elder
15 banter
16 Stop Breathin
17 Two States
18 Father to a Sister of Thought
19 banter
20 Heckler Spray>In the Mouth of a Desert
21 banter
22 We Dance
23 Summer Babe
24 Fin
25 Stereo
26 encore break
27 Spit on a Stranger
28 Trigger Cut
29 banter
30 Starlings of the Slipstream
31 Gold Soundz
32 Kennel District
33 Range Life
If you download this recording from NYCTaper, we expect that you will continue to support Pavement, visit their official website, go to shows on this tour, and purchase the records and merch you don't already own from the band's official store or Matador Records.