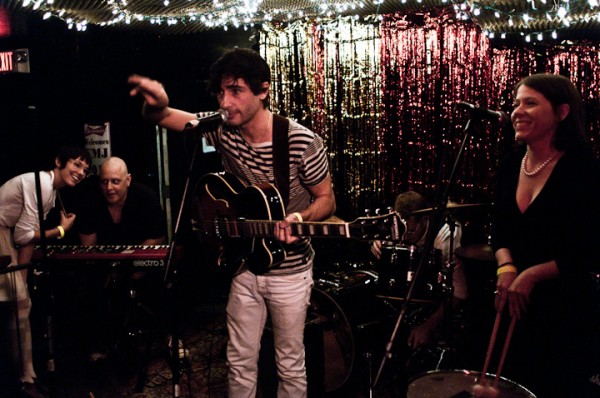 [Photo courtesy of Andrew Gardner]
NYCTaper favorites Common Prayer were a much-appreciated addition to the NYCTaper Unofficial CMJ Day Party.   Frontman Jason Russo has been involved in a number of other outstanding projects, from psych-rockers Hopewell to the legendary Mercury Rev, but Common Prayer have a unique appeal, with excellent songcraft that has a radio-ready pop immediacy (including on the song "Hopewell", a reference to both the town of Hopewell, NY and Russo's other band). Russo and partner Alexandra Marvar's songs have an exuberant, whimsical quality that evidences a bit of the British influence I also heard in Mercury Rev.  In addition to three other songs from their new record There Is A Mountain, the band closed out with a very special rendition of the Talking Heads' "Love-Building On Fire."  These songs have stayed stuck in my head for days (no small feat considering the $3 Sixpoint beers flowing throughout our event!).  For more Common Prayer, check out the band's recent set at Rock Shop, also recorded in excellent quality, as well.  Enjoy!
I recorded this set in the same manner as our other CMJ Day Party sets, with the DPA mics mounted just in front of and above the stage and a stereo soundboard feed.  The sound is once again outstanding (with a couple of small spots of interference from the band's cell phones).
Stream "Hopewell":
[audio:http://www.nyctaper.com/C1308Common1020/CommonPrayer-Hopewell2010-10-21.mp3]
Direct download of MP3 files [HERE]
Download the Complete show in FLAC [HERE].
Common Prayer
2010-10-21
NYCTaper CMJ Day Party
Cakeshop
New York, NY
An acidjack master recording
Recorded and produced by acidjack for nyctaper.com
Equipment: DPA 4021+Stereo soundboard feed>Edirol R-44 (Oade Concert Mod) (24/44.1)
Position: Mount above and slightly in front of stage, ORTF
Mastering: 2×24bit/44.1kHz WAV>Audacity (mixdown, set fades, tracking, hard limit peaks, amplify and balance)>FLAC ( level 8 )
01 Marriage Song
02 Hopewell
03 Us Vs. Them
04 Sarah G
05 Love-Building On Fire [Talking Heads]
If you download this recording from NYCTaper, we expect that you will PLEASE SUPPORT Common Prayer, visit their website, and purchase There is a Mountain from the links at their website.